Danish Prince to divorce wife
(Agencies)
Updated: 2004-09-20 09:17
Prince Joachim, Queen Margrethe's second son, will seek a divorce from his Hong Kong-born wife, Princess Alexandra, a spokesman for Denmark's royal family said Thursday.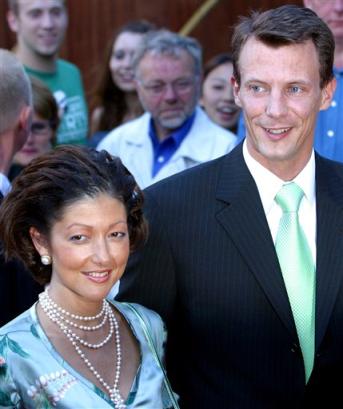 Denmark's Prince Joachim and his wife Princess Alexandra arrive at Tivoli Gardens in Copenhagen on June 10, 2004, file photo. Prince Joachim, Queen Margrethe's second son, will seek a divorce from Alexandra, it was announced on Thursday September 16, 2004. [AP]

Queen Margrethe and her husband Prince Henrik "deeply regretted" the couple's decision, but added they would give their full support to their son and daughter-in-law, according to a statement read by the royal family lord chamberlain, Ove Ullerup.

Ullerup said Joachim and Alexandra would continue their official duties during the divorce. If the divorce is completed, then it is the queen's decision whether to let Alexandra keep her royal title.

"The princess has no plans to leave the country," Ullerup said.

The announcement marks the first time since 1846 that a member of Denmark's royal family, Europe's oldest ruling monarchy, has gotten a divorce. The monarchy was founded by the Viking Gorm the Old, who died in 958.

Steffen Heiberg, a historian specializing in royal history, said the last divorce in the Danish royal house was in 1846 when King Frederik VII divorced Princess Caroline Charlotte Mariane of Mecklemburg-Strelitz, Germany.

He said the divorce is a "private matter" and would be handled like any other divorce in the Scandinavian country of 5.4 million.

"Both of them have a duty to take care of their children and will continue to share parenting responsibilities," Niels Eilschou Holm, the palace's legal expert, told reporters at a press conference.

For several months, Danish media have carried reports and rumors that the couple had been leading separate lives.

Joachim, 35, and Alexandra Manley, 40, got married on November 18, 1995, at Frederiksborg Castle in Hilleroed, Denmark. The couple have two sons, Prince Nikolai, 5, and Prince Felix, 2.

After the wedding, the enormously popular princess captured Danes' hearts and admiration by giving a speech in fluent Danish.

Alexandra spends considerable time in the public eye, serving as the patron of 21 groups, including the Danish Association for the Blind, a marine life museum, a girls' choir and a shelter for homeless and abused women with children. She is also the president of UNICEF Denmark.

While Alexandra carried out official duties, Joachim was dubbed "the party prince" because he spent more time attending soccer games, racing vintage cars and rock concerts.

The couple met in January 1994 in Hong Kong, where the prince was working for a Danish shipping company.

After marrying into Europe's oldest ruling monarchy, Alexandra gave up her professional life as a mutual fund manager and dropped her British citizenship for a Danish passport.

She is known as an elegant dresser and speaks German and French. She studied economics in Hong Kong, London and Vienna.

Joachim is the younger brother to the heir to Denmark's throne, Crown Prince Frederik, who in May married Australian-born Crown Princess Mary.




| | |
| --- | --- |
| | |
| The film 2046 promotes in Shanghai | |

| | |
| --- | --- |
| | |
| Chun Shu's work published in US | |

| | |
| --- | --- |
| | |
| Vietnamese fashion show | |
Today's Top News
Top Life News

Hu takes over as CPC military commission chief




China completes orderly power transfer




Iraq group shows tape of beheading 3 Kurds




WHO urges sharing of bird flu case samples




Corrupt land minister expelled from CPC




Bomb threat postpones Beijing trade fair