Tropical storm Jeannee kills at least 90 in Haiti
(Agencies)
Updated: 2004-09-20 09:15
Tropical Storm Jeanne brought raging floodwaters to Haiti, killing at least 90 people in the battered nation and leaving dozens of Haitian families huddled on rooftops as the storm pushed further out into the open seas on Sunday, officials said.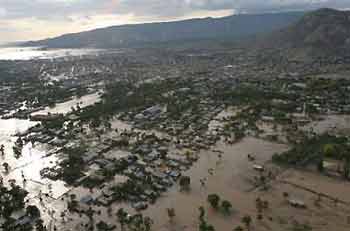 This aerial view shows the flooding in Gonaives, Haiti, Sunday, September 19, 2004. [AP]
Floods tore through the northwestern coastal town of Gonaives and surrounding areas, covering crops and turning roads into rivers. US-backed interim Prime Minister Gerard Latortue and his interior minister toured the area in a UN truck Sunday, but were not able to reach many areas because of washed out roads.
"We don't know how many dead there are," Latortue said. "2004 has been a terrible year."
Workers with the Catholic humanitarian agency Caritas Internationalis picked up 62 bodies in pickup trucks and counted another 18 at a morgue in Gonaives alone, said Rev. Venel Suffrard, the organization's local director. Suffrard said he expected the toll to rise.
The floods killed another 10 people in other parts of the country, mostly in the northwest, said Dieufort Deslorges, a spokesman for the Haitian Ministry of Interior.
A World Health Organization worker said he had toured parts of downtown Gonaives and saw people pushing wooden carts filled with cadavers. "There is no life left in the center of town," UN health worker Pierre Adam said.
The deaths came four months after floods killed more than 3,000 people on the Haitian-Dominican border. In February, a three-week rebellion ousted President Jean-Bertrand Aristide and left about 300 dead.
Several people were reported missing and feared dead. Unlike the Dominican Republic, much of Haiti is deforested and unable to hold back floodwaters.
At 11 p.m. EDT, Jeanne was 180 miles east-southeast of the Bahamian island of San Salvador, moving northward near 8 mph. Storm-force winds strengthened to 60 mph and stretched up to 85 miles from its center.
Jeanne didn't appear likely to hit the storm-battered southeastern United States. It was expected to turn south over the next two days and head back out into the Atlantic, away from Florida and other states that have been battered by three major storms already this season.
Today's Top News
Top World News

Hu takes over as CPC military commission chief




China completes orderly power transfer




Iraq group shows tape of beheading 3 Kurds




WHO urges sharing of bird flu case samples




Corrupt land minister expelled from CPC




Bomb threat postpones Beijing trade fair