Potala Palace repairs done in Tibetan style
(Xinhua)
Updated: 2004-09-19 10:27
Very traditional Tibetan architectural skills have been used in the Repair work on Potala Palace in Lhasa, capital of southwest China's Tibet Autonomous Region, said Qamba Gesang, head of administration bureau of the lamasery.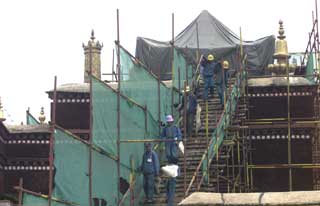 Workers repair the roofs of the Potala Palace in Lhasa, Tibet Autonomous Region in this July 20, 2004 file photo. [newsphoto]

"Tibetan architecture is unique, and the patch-up of Tibetan buildings is also different from those inland buildings," said Qamba.

More than 90 percent of workers doing for the repairs of the palace are Tibetan craftsmen, he said.

"Workers of Han ethnicity are not familiar with the Tibetan techniques," said Qamba.

But new techniques are also used in the repairs, Qamba said. For example, in the past, lumber was wind-dried for more than 10 years to avoid erosion. Now it can be used immediately after a erosion-resistant process.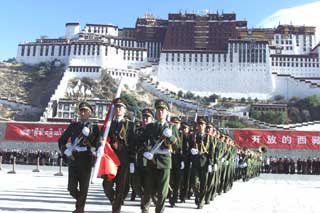 A grand flag-hoisting ceremony is held in the Potala Palace square in this May 23, 2001 file photo to mark the 50th anniversary of the liberation of Tibet. The Potala Palace stands in the background in this photo. [newsphoto]

Potala Palace was first built by the Tibetan King Songtsa Gamboin the 7th century during the Tang Dynasty (618-907), and was extended during the 17th century by the Dalai Lama, who ruled Tibet from the 13-story building on the Red Hill 3,600 meters above sea level.

With the total investment of 179.3 million yuan, the renovationproject began in 2002. So far, the repair work on the Qamqingtalamu exterior wall and Pingcuoduilang corridor has completed. The patch-up of murals and other decorations inside thepalace are underway, said Qamba.

Potala Palace, together with the Norbu Lingka and the Sakya Monastery, are the three Tibetan cultural heritage sites being restored with a total investment of the three reached 333 million yuan (US$40 million).






Today's Top News
Top China News

Negative interest rates give banks a hard time




China prepares for holiday passenger peak




Sirens wail across China to mark 1931 attack




UN adopts resolution on Sudan's Darfur




Potala Palace repairs done in Tibetan style




China: Resolve Iranian nuke issue in IAEA