UN adopts resolution on Sudan's Darfur
(Agencies)
Updated: 2004-09-19 08:27
The U.N. Security Council adopted a resolution on Saturday threatening Sudan with oil sanctions if it did not stop atrocities in the Darfur region where Arab militias are terrorizing African villagers.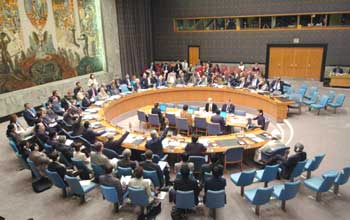 The United Nations Security Council votes to adopt a resolution that threatens oil sanctions against Sudan if Khartoum does not stop atrocities in the Darfur region, in New York September 18, 2004. The vote was 11-0, with four abstentions, on the U.S.-drafted resolution that also calls for an expanded African Union monitoring force and a probe into human rights abuses including genocide. [Reuters]

The vote was 11-0, with abstentions by China, Russia, Pakistan and Algeria on the U.S.-drafted resolution that also calls for an expanded African Union monitoring force and an international probe into abuses, including genocide.

China earlier threatened to veto the measure but said it did not want to hinder the African Union, which may send in 3,000 monitors and troops to investigate and serve as a bulwark against abuses.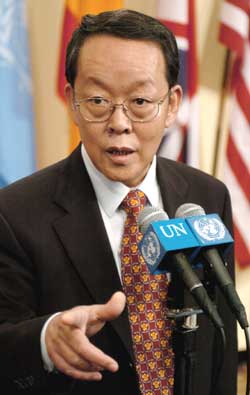 Chinese Ambassador to the United Nations Wang Guangya speaks after his country abstained during the U.N. Security Council vote, at the United Nations in New York, September 18, 2004. [Reuters]

But Beijing's U.N. ambassador, Wang Guangya, served notice he would veto any future resolution that would impose sanctions. "That is the message," he told reporters.

Co-sponsoring the resolution with the United States were Britain, Germany, Spain, and Romania. Also voting in favor were France, Brazil, Chile, Angola, Benin and the Philippines.

U.S. Ambassador John Danforth, in a chilling recital of abuses in Darfur, said some 50,000 people had been killed, 1.3 million civilians had been uprooted from their homes and 2 million people were in need of relief.

"We act today because the Government of Sudan has failed to fully comply with our previous resolution, adopted on July 30," Danforth said. "The crisis in Darfur is uniquely grave. It is the largest humanitarian disaster in the world."

Danforth accused the Sudanese government of bombing villages and sending in its soldiers to help militia, called Janjaweed, even when there was no activity from African rebels fighting the government.

THREAT TO PEACE TALKS?

In response, Sudan's U.N. Ambassador Elfatih Erwa spoke at length, lashing out at the United States and declaring that the resolution would prompt African rebels to ruin peace talks on Darfur. He contended the resolution did not reflect U.N. Secretary-General Kofi Annan's report on Sudan, although Annan had spoken openly in favor of the resolution.

Erwa said the resolution was instigated by a country that commits torture in prisons in Afghanistan, Iraq and Guantanamo and was promoted by the U.S. Congress.

"It believes it is the only conscience of the world and indeed they have the divine right to decide the destiny of all peoples," Erwa said. "The emperor has not clothes."

He later told reporters his government would cooperate with the African Union and "in principle" was not opposed to an international inquiry of human rights abuses.

Danforth called Erwa's broadside "unseemly and an uncalled-for attack on the United States" from a government that used helicopter attacks against its own people last month.

The resolution also urges African rebels and all other parties to the faltering African Union negotiations to sign an agreement on security quickly.

Rebels began an uprising in Darfur in February 2003 after years of skirmishes between mainly African farmers and Arab nomads over land and water in an area as large as France.

The government turned to the militia, drawn chiefly from the nomadic Arab population, to help suppress the rebels but the Janjaweed, often backed by government forces, escalated the conflict, raping villagers and pillaging.

Specifically, the resolution says that if Sudan does not comply with its demands or cooperate "with the expansion and extension" of the African Union mission, the council "shall consider taking additional measures ... such as actions to affect Sudan's petroleum sector and the Government of Sudan or individual members of the Government of Sudan."




Today's Top News
Top World News

Negative interest rates give banks a hard time




China prepares for holiday passenger peak




Sirens wail across China to mark 1931 attack




UN adopts resolution on Sudan's Darfur




Potala Palace repairs done in Tibetan style




China: Resolve Iranian nuke issue in IAEA