Sirens wail across China to mark 1931 attack
(Agencies)
Updated: 2004-09-18 16:34
Sirens will wail across more than 100 Chinese cities and cars will stop and honk their horns on Saturday to commemorate the 73rd anniversary of the start of Japan's invasion of China, state media said.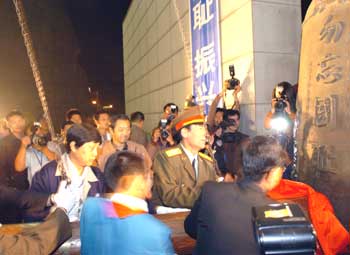 Local residents in Shenyang, northeast China's Liaoning Province, strike a bell to remember the 73rd anniversary of Japan's invasion of China September 18, 2004. Commemorative activities were held in more than 100 Chinese cities. [Xinhua]

Up to 35 million Chinese were killed or wounded by invading Japanese troops from 1931 to 1945.

Cities from Hangzhou in the east coast to the Tibetan capital of Lhasa in the Himalayas were due to take part in the commemoration of the "Mukden Incident" on Sept. 18, 1931, when Japanese troops began occupying northeast China, then known as Manchuria.

The anniversary takes on bigger significance this year because Saturday is National Defence Education Day, which falls on the third Saturday of September and on which sirens are traditionally sounded in major cities.

Some sirens went off at 9.18 a.m. (0118 GMT), while others were timed for 9:18 p.m. (1318 GMT), for instance in the northeastern city of Shenyang, formerly Mukden, officials said by telephone. The time represents the 18th day of the ninth month.

The Beijing Youth Daily newspaper said cars would stop in the street at 9.18 p.m. and sound their horns.

It showed a picture of students of Laoshan Primary School, Shandong province, holding a banner at "Yangkou landing point of Japanese invading troops".

The banner read: "Keep firm the memory of history and never forget about national humiliation."

A handful of protesters gathered outside the Japanese Embassy in Beijing waving flags and banners and denouncing Japanese wartime aggression.

Shrine, Soccer

Diplomatic ties between China and Japan have often been frayed by Japanese Prime Minister Junichiro Koizumi's annual visits to a Shinto shrine for Japan's war dead.

But the two Asian giants have moved to strengthen ties. Trade is booming and investment and tourists are on the rise.

China's loss to Japan in the Asian Cup soccer final in August fuelled anti-Japanese sentiment. Vice Foreign Minister Wang Yi has since been appointed ambassador to Japan in a bid to mend ties.

On Thursday, China rejected a proposal by a 10-member private advisory panel to Koizumi that the world's most populous nation be described as a military threat, saying China posed no danger to its smaller neighbour.






Today's Top News
Top China News

Negative interest rates give banks a hard time




Huge sum to be put into social security




Sirens wail across China to mark 1931 attack




UN adopts resolution on Sudan's Darfur




New standards on air conditioners released




Putin: Complicit West harbours terrorists