Powell disputes Annan, insists Iraq war is legal
(Agencies)
Updated: 2004-09-18 00:41
Secretary of State Colin Powell disputed U.N. Secretary-General Kofi Annan's assertion that the U.S.-led war in Iraq was illegal and said in an interview published on Friday the comment was "not a very useful statement to make at this point."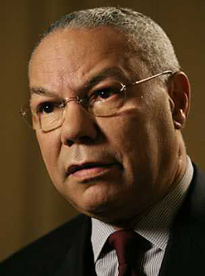 Powell, seen in Washington on September 14, said in an interview with The Washington Times that Kofi Annan's comment was useless for Iraqi people. [Reuters]

"What does it gain anyone? We should all be gathering around the idea of helping the Iraqis, not getting into these kinds of side issues," Powell said in an interview with The Washington Times.

Powell added that he was sure he would have the opportunity to talk to Annan about the comments the U.N. chief made to the BBC on Wednesday.

Asked whether the U.S.-led invasion of Iraq broke international law, Annan said, "Yes, if you wish. I have indicated it was not in conformity with the U.N. Charter from our point of view, and from the Charter point of view it was illegal."

Powell, however, said: "What we did was totally consistent with international law."

Officials in Britain, Australia and Poland also insisted the military action in Iraq was legal.

The United Nations played down Annan's statement, which spokesman Fred Eckhard said Annan felt was no different from what he has been saying for more than a year.

In the wide-ranging Washington Times interview, Powell also acknowledged the serious security situation in Iraq after months of violence. Nearly 200 Iraqis have been killed in bomb blasts, clashes and other attacks over the past few days.

Powell said U.S. diplomats and military commanders recognized that Iraqi elections set for January cannot proceed under the current security conditions in certain areas of the country but predicted it would improve.

"We don't expect the security situation as it exists now on the 16th of September to be the security situation" on the day Iraqis vote, Powell told the newspaper.

"We know and (interim Iraqi Prime Minister Iyad Allawi) knows that these areas have to a brought back firmly under government control."




Today's Top News
Top World News

Huge sum to be put into social security




Real estate prices on the rise




Forum concerns parking issue




China seeks helpful resolution to Darfur crisis




Golden Rooster International Film Show opens




Ticket sales for F1 Shanghai debut soar