Suicide bomber targets Baghdad police
(Agencies)
Updated: 2004-09-18 00:19
A suicide attacker detonated an explosives-packed vehicle near a row of police cars blocking off a bridge in central Baghdad, killing at least five people and wounding 20, officials said. The attack came hours after U.S. jets pounded the insurgent stronghold of Fallujah, leaving at least 44 dead.
It was the second car bombing this week targeting Baghdad police forces, part of a stepped up campaign of violence to thwart U.S-backed efforts to strengthen the Iraqi security forces and bring stability to the country ahead of January elections.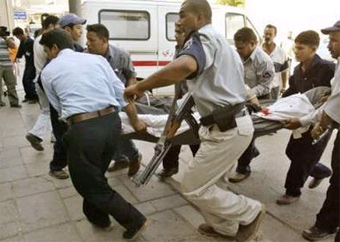 A wounded Iraqi policeman is rushed to a hospital following a car bomb explosion near a police station at Rashid street in central Baghdad, September 17, 2004. A suicide car bomber struck near a major police checkpoint in central Baghdad on Friday, killing at least 13 people and wounding 20, health ministry and government sources said. [Reuters]

The attack came in the middle of a busy market day, with thousands of shoppers in the area. A half-dozen police cars were parked at the bridge when a driver pulled up. Officers ordered him to stop, but he kept advancing and exploded his vehicle in the middle of the parked cars, said policeman Ammar Ali said.

"I was thrown outside my car," said another policeman, Ali Jabar, who was being treated for wounds to his face and hand at the city's main Medical City hospital. He blamed insurgents waging a 17-month campaign against Iraqi authorities and the U.S.-led coalition in Iraq.

"By attacking Iraqi police, they think that they will be sent to heaven, but by God's will, they are now melting in hell," Jabar said from his hospital bed.

The Iraqi Health Ministry said at least five people were killed and 20 wounded in the midday explosion. Police fired shots afterward to disperse the crowd, and shoppers streamed from the scene.

"I saw human flesh and blood in the street, then I fled," said Mouayad Shehab.

Later in the day, a series of explosions rocked central Baghdad, though the cause or exact location of the blasts was not immediately clear.

The police vehicles had been helping to seal off the area around Haifa street, where U.S. and Iraqi forces had raided suspected insurgent hideouts in the morning, sparking a gunbattle.

The sweep arrested 63 suspects, including Syrians, Sudanese and Egyptians, and seized cashes of weapons including rockets, grenades and machine guns, said Interior Ministry spokesman Sabah Kadhim. There was no immediate word on casualties.

West of Baghdad, an initial wave of U.S. airstrikes late Thursday targeted a compound in Fazat Shnetir, about 12 miles south of Fallujah, where militants loyal to Jordanian-born terror mastermind Abu Musab al-Zarqawi were meeting to plot attacks on coalition forces, the military said in a statement.

Militants who survived the strikes sought refuge in nearby villages, but U.S. forces said they quickly broke off an offensive to hunt them down in an effort to avoid civilian casualties.

Residents of one village, Fazat Shnetir, could be seen digging communal graves Friday to bury the dead in groups of four.

Earlier Friday, in Fallujah, U.S. warplanes unleashed strikes on a cluster of houses believed to be used by members of Zarqawi's Tawhid and Jihad group, the military said.

Blood covered the floors of the Fallujah General Hospital as doctors struggled to cope with the casualties, many brought to the hospital in private cars with ambulances overwhelmed. Relatives pounded their chests in grief and denounced the United States.

Health Ministry spokesman Saad al-Amili said at least 44 people were killed and 27 injured in the Fallujah strikes. He said 17 children and two women were among the wounded. Hospital officials said women and children were also among the dead, but exact figures were not immediately available.

Religious leaders switched on loudspeakers at the Fallujah mosque, calling on residents to donate blood and chanting: "God is great."

The military said intelligence reports estimated that up to 60 suspected insurgents may have been killed. U.S. forces, however, have not patrolled inside Fallujah since ending a three-week siege of the city that left hundreds dead. Insurgents have only strengthened their grip on Fallujah since then, regularly mounting attacks against Marine positions and military convoys on the city's outskirts. Iraq has seen a surge of violence in the past week that has killed more than 250 people nationwide, as insurgents persist with kidnappings and spectacular bombings aimed at driving out the United States and its allies and embarrassing the interim government of Prime Minister Ayad Allawi.

In the latest abductions, gunmen grabbed two Americans and a Briton in a dawn raid Thursday on their home on a leafy Baghdad street — a bold abduction that underlined the increasing danger for foreigners in the embattled capital.

The U.S. Embassy identified the Americans kidnapped Thursday as Jack Hensley and Eugene Armstrong; the name of the British man was not disclosed. All three worked for Gulf Services Co., a United Arab Emirates-based construction company. "They were doing work under contracts with them in Baghdad," State Department spokesman Richard Boucher said.

More than 100 foreigners have been kidnapped, some in a bid to collect lucrative ransoms. Many have been executed.

Early Friday, police found the corpse of a man they believed to be a Westerner about 40 miles north of Baghdad. The body was pulled from the Tigris River near the central Iraqi village of Yethrib, said Capt. Hakim al-Azawi, the head of security at Tikrit's Teaching Hospital.

The man, described as tall and well built with blonde hair, had been shot in the back of the head. His hands were cuffed behind his back.

At least five other Westerners are currently being held hostage in Iraq, including an Iraqi-American man, two female Italian aid workers and two French reporters, both of whom have dark hair.




Today's Top News
Top World News

'Garden of gardens' to undergo revamping




English web platform launched




Most US companies making profits in China




Hurricane Ivan slams Gulf coast; 20 dead




Fixed investment rises 30.3%




China rejects US religion report