Autumn makes slow arrival in Beijing
By Qin Jize (China Daily)
Updated: 2004-09-18 00:18
After several rainy and chilly days, Beijing residents are expected to brace their first sunny autumn days over the weekend.
Local weather services said the temperature will rise slightly over the weekend, but will certainly not be as high as in the summer.
Chilly weather in Beijing at this time of the year, is not, of course, that unusual. In fact, autumn is about a week late to arrive in the capital compared to previous years.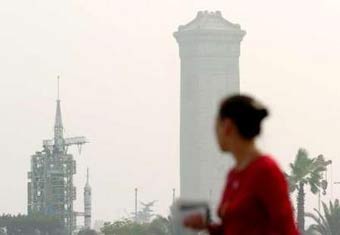 A tourist looks at a scaled down replica of China's Long March space rocket installed on Tiananmen Square in Beijing, September 16, 2004 in preparation of the National Day. China celebrates its 55th National Day on October 1. [Reuters]

According to the Chinese lunar calendar, autumn should have arrived on the day of "Liqiu," which means the beginning of the season.

This year, Liqiu fell on August 7, however, hot weather lingered across most of the nation until mid-September.

According to Chen Dagang, weather expert with the Beijing Meteorological Observatory, the average temperature of the first half of September is 22.8 degrees Celsius, higher than the average record, which is 21.8 degrees Celsius.

As Beijing has experienced cool, fall-like temperatures for the past few days, the mercury record showed that Beijing has formally stepped into autumn, he added.

For most Beijing residents, the noticeably chilly rainy weather is a sure sign that autumn is just around the corner.

Some are even a bit shocked after getting used to the warm conditions that prevailed over August and the first weeks of September.

Summer days have faded into the cooler season of autumn not only for the nation's capital, in fact, signs all over the country show autumn is quickly approaching.

"I can feel it is no longer summer because I need a quilt at night," said Qin Xiyao, 56, a resident in the city of Wuhan in Central China's Hubei Province, known for its summer heat.

He said he even recognized the leaves began to fall.

"The kids are back in school for their autumn semester and department stores are beginning to sell wool sweaters," said Ji Chao, 36,, "for me that is the sign of the new season."

Wang Yan, 25, a translator in Beijing considers fall the best time of year.

"October in Beijing is absolutely awesome," she said, "it is the time of year I like best, because it isn't too hot and just cool enough to enjoy life."

Though not everyone appreciates the change in weather, no one can resist the charm of autumn in Beijing.

For Paul Gates, an Australian who grew up surrounded by warm weather nearly all year round, the hot summer is his favorite.

"But Beijing's autumns are really nice and mild with generally clear days, so it is a good time to be in the city," he said.

"However, I would still prefer it, if the hot weather was longer," he said, "since Beijing always has a short autumn and then a long gloomy winter."

Experts said that fall is the best time to prevent the flu, suggesting people receive flu vaccinations.

Chief scientist of the China Centre for Disease Prevention and Control Zeng Guang said winter is the most likely time to catch the flu in China.

He noted that getting vaccinated one or two months before winter is the most effective way to prevent the flu and people should get vaccinated with new bacteria, since the flu virus tends to have variations.




Today's Top News
Top China News

Huge sum to be put into social security




Real estate prices on the rise




Forum concerns parking issue




China seeks helpful resolution to Darfur crisis




Golden Rooster International Film Show opens




Ticket sales for F1 Shanghai debut soar