China seeks helpful resolution to Darfur crisis
(Xinhua)
Updated: 2004-09-17 21:49
A new resolution on Sudan should help defuse the crisis afflicting the African nation, rather than add further confusion to the already complicated situation there, top Chinese envoy to the UN said Thursday.
Speaking to reporters after receiving a fine-turned US draft threatening sanctions against Sudan, Wang Guangya, permanent representative of China to the world body, said the UN Security Council should move to help resolve the conflicts troubling the Darfur region in west Sudan.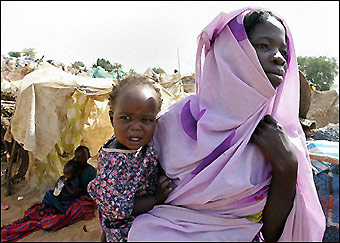 A young Sudanese mother carries her child next to her makeshift home at the Internally Displaced Persons (IDP) camp of Krinding on the outskirts of the western town of El-Geneina in Sudan's troubled Darfur region, close to the border with Chad. [AFP]


"All of us agreed that there are problems in Darfur. I think what the Security Council should do is to try to find a formula for the solution to the problems," he said.

"What we hope to see in the draft resolution is that the measures taken by the Security Council can be helpful to find a solution, and will not impair the atmosphere, impair the delicate working relation now between the Secretariat and the Sudanese," he noted.

He said that China had "some difficulties" with the current draft, adding that he will continue discussions with the draft proposer.

In order to garner more support for its draft resolution on Sudan, the United States on Thursday circulated an amendment to a UN Security Council resolution threatening sanctions.

Instead of setting up a none-fly zone in the troubled Darfur region, the new draft urges the government of Sudan to "refrain from conducting" military flights "in and over" the Darfur region.

But the US maintains its threats on sanctions that may "affect Sudan's petroleum sector," if the government of Sudan fails to comply, "including failure to cooperate fully with the expansion and extension of the African Union monitoring mission in Darfur."

Despite opposition from certain council members, a spokesman for the US mission to the UN said they would stick with the plan to push for a vote on the draft resolution on Friday.




Today's Top News
Top China News

'Garden of gardens' to undergo revamping




English web platform launched




Most US companies making profits in China




Hurricane Ivan slams Gulf coast; 20 dead




Fixed investment rises 30.3%




China rejects US religion report