Bush, Kerry deadlocked in new poll
(Agencies)
Updated: 2004-09-17 14:20
Two national polls have shown the race between President George W. Bush and Democrat John Kerry is deadlocked as Bush's convention bounce faded, although the president has made headway in key swing states.
In polls certain to buoy the spirits of anxious Democrats, the Pew Research Centre and Harris Interactive found equal levels of support for the White House contenders as Kerry rebounded from the withering attacks he faced at the Republican convention that ended on September 2.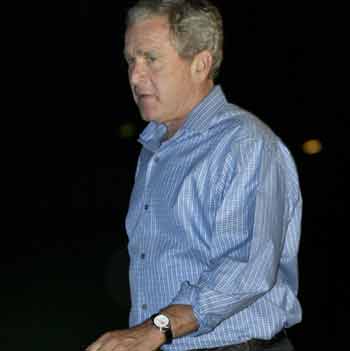 US President George W. Bush returns to the White House in Washington after a day of campaigning in Minnesota, September 16, 2004. Bush said Thursday freedom was on the march in Iraq even as a US intelligence report depicted a bleak outlook for the country. [Reuters]


The new surveys followed two other polls in recent days, by Investor's Business Daily and a Democratic group, Democracy Corps, that found the race essentially even again, just as it was for months before the two parties held their nominating conventions.

"Some of the negative attacks against Kerry are wearing off and he has stayed in the game because people are discontent with Bush on Iraq and the economy," said Andrew Kohut, director of the Pew Research Centre for People and the Press.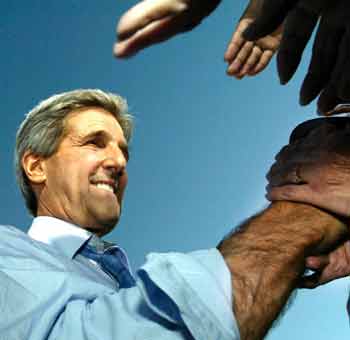 US Democratic presidential nominee John Kerry shakes hands with supporters after a rally in Albuquerque, New Mexico September 16, 2004. Kerry, appearing before National Guard veterans in Las Vegas earlier, said Bush "failed to tell you the truth" about growing chaos in Iraq during an appearance at their convention two days ago. [Reuters]


"Unfortunately for Kerry, he's been unable to tap into that unhappiness, especially on Iraq," Kohut said, noting Bush still beats Kerry 52-40 percent on who was favoured to lead the war in Iraq. "It's a mixed picture for Kerry, but that's better than what he had a few days ago."

Several other recent polls have shown Bush, who bounced to a double-digit lead in two polls after the Republican convention, holding a four- to seven-point lead over Kerry.

A flurry of new state polls, meanwhile, showed Bush moving ahead in key states like Florida and Nevada and challenging Kerry in Democratic strongholds like New Jersey.

Voters unsettled

"We went through a period for months where there was no air between these candidates in the polls ... and now it's the opposite," Kohut said. "I think it shows the voters are unsettled, their thoughts about Kerry are unsettled and they are going back and forth."

A new National Annenberg Election Survey earlier this week found Bush gaining ground as a leader and in the war on terror, but his approval ratings among undecided and "persuadable" voters dropped below levels from before the convention.

Kerry has sharpened his message and gone on the offensive against Bush this week on Iraq and the economy, challenging the president's credibility and his leadership on both issues.

The new focus came as he faced a chorus of complaints from fellow Democrats about his failure to develop a coherent message and respond quickly to attacks on his record in Vietnam.

"I feel very comfortable with where we are," Democratic Party boss Terry McAuliffe said. "As it relates to the battleground states, I think we're in a very good position."

Bush campaign spokesman Scott Stanzel said the campaign always expected a close race and nothing has changed.

"We've seen polls over the past week that show the president ahead, some well ahead and some slightly ahead, or tied," he said. "What we are planning for is a close election, potentially as close as 2000."

The Pew survey sampled voters in two waves. The first poll of likely voters, taken September 8-10, found Bush ahead by 16 percentage points. The second poll on September 11-14, which had a 3.5 percentage point margin of error, found Bush with a statistically insignificant one-point lead. Among registered voters, it was deadlocked.

The Harris poll, which was conducted September 9-13 and had a 3 point margin of error, found Kerry with a one-point lead. A Harris poll in June gave Bush a 10 percentage point lead.