Fox-hunting ban bill is approved
(Agencies)
Updated: 2004-09-16 10:45
Supporters of fox hunting stormed Britain's parliament yesterday and scuffled with police at a mass rally, but failed to prevent lawmakers from moving closer to a ban of the blood sport.
Debate was suspended for half an hour after five pro-hunt protesters broke into the House of Commons chamber, but ministers later voted by a majority of 356 to 166 in favour of the government bill.
Seven people were arrested as some of over 10,000 hunting supporters outside Parliament Square clashed with police, injuring at least 17 people, including a policeman.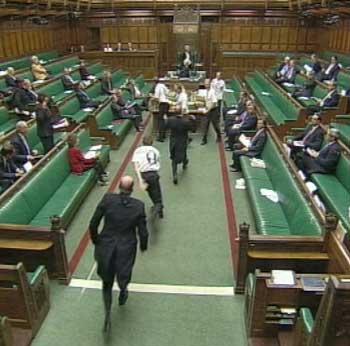 A television grab shows protesters opposed to a ban on fox hunting entering the floor of Britain's parliament in London, September 15, 2004. In an extraordinary breach of security, the protesters, in white T-shirts, walked into the chamber on Wednesday to remonstrate with members of parliament, causing a debate on banning the ancient pursuit to be suspended. [Reuters]


Some protesters had been launching missiles, including bottles and fireworks, at police.

Clashes continued sporadically after the vote, but the crowd had begun to disperse by 6:45pm after riot police were called in to calm the situation.

Earlier in parliament, four of the men ran out from behind the chair of the speaker, charged with keeping the order in the House of Commons. Another wrestled past a doorkeeper from a different entrance.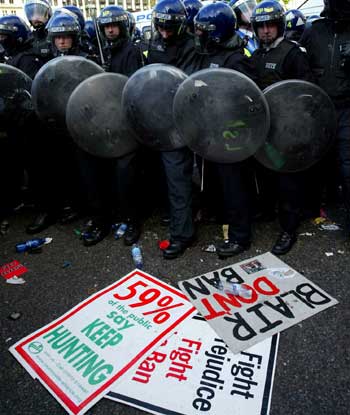 Pro-hunting demonstrators clash with police outside the Houses of Parliament in London, September 15, 2004. Fox hunting could be outlawed across Britain after hundreds of years as parliament votes on Wednesday to ban it against a backdrop of deafening street protests and political wrangling. [Reuters]


They were chased and eventually caught by officials live on television, but not before one pointed a finger and ranted at the government minister leading the debate, Alun Michael.

As the Commons resumed business following a half-hour delay deputy speaker Sylvia Heal told lawmakers: "A very serious incident has taken place." She said that an investigation was already underway and that speaker Michael Martin would be receiving reports from the police and the parliamentary security staff.

The incident will pose yet more security questions in Britain, coming just a day after a man broke into Buckingham Palace grounds dressed as Batman and stood on a ledge to protest for fathers' rights.

The fox hunting issue has been simmering since the Labour Party took power in 1997, and came to a boil in September last year when more than 400,000 hunt supporters bore down on London for an unprecedented march.

Supporters insist the practice is an inalienable right and a rural tradition which helps control countryside pests and provides thousands of jobs.

Opponents say it is both elitist and barbaric, with a pack of dogs tracking a live animal and then tearing it apart.

The Commons has voted before for a total ban, but opposition in the House of Lords, rooted deeply in the land-owning aristocracy, stalled legislation long enough for it to die on the order paper.




Today's Top News
Top World News

UN rejects Taiwan's representation proposal




Rally marks 50th anniversary of NPC




Chen's separatist moves heighten tension




Sharp rise of FDI shows confidence




Three beheaded bodies found in Iraq




Second Beijing airport likely