Conjoined sisters survive separation surgery
(Xinhua)
Updated: 2004-09-16 01:44
Doctors in east China's Shanghai municipality have successfully separated a set of three-month-old conjoined twin girls, who were born joined at the neck, chest and abdomen.
The operation lasted five hours Thursday at the Shanghai Children's Medical Center, and after four days of observation, the hospital announced on Tuesday the operation had proved a success.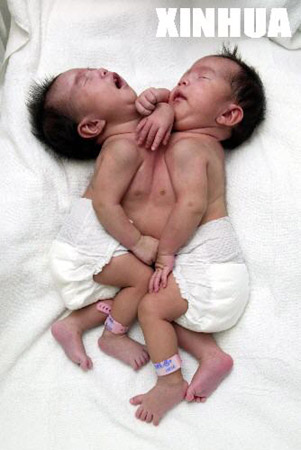 The conjoined twin sisters before separation surgery. [Xinhua]

The sisters, nicknamed Ada and Axiao, which mean elder and younger respectively, were born on June 5 to a couple from Xuzhou city in the neighboring Jiangsu Province. They were sent to the Shanghai hospital 10 hours after birth.

The sisters have grown quickly in the intensive care at the Shanghai hospital over the past three months. By the time the surgery was conducted, doctors say their weight had climbed from 5. 9 kilograms at birth to 9.9 kilograms.

The Shanghai hospital decided to separate them last week because Axiao, the younger one of the twins, was suffering from infection in the lungs and dysfunction in the heart that could endanger both lives, said Liu Jinfen, president of the hospital.

Liu said the surgery was very challenging because the connection area between the twins had expanded to 25 cm x 20 cm from 18 cm x 14 cm at birth.

After the separation, doctors conducted a second surgery on Axiao to repair her congenital cardiovascular deformity. "It's the first time for the two operations to be carried out simultaneously in China," said Liu. "Only German doctors took the challenge once, in 2002."

He said doctors used quality titanium, a material commonly used in the aviation sector, as well as pigskin, to repair the wounds on the twins' chest and belly, and no rejection reaction has been reported so far.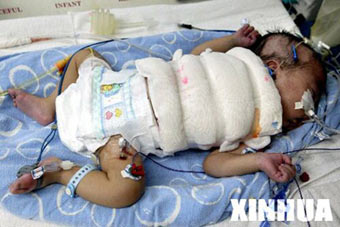 Ada, the elder twin conjoined sisters after surgery. [Xinhua]

"We might still consider replacing titanium with better material once further progress is made in tissue engineering studies, and the pigskin patches will come off once the babies' skin heals in about two weeks," said the seasoned pediatrician.

The operation was carried out at no charge to the parents, according to Liu.

The sisters are under intensive care.

China has reported 27 sets of Siamese twins since New China was founded in 1949, and 16 pairs of them have been separated.

In one of the recent cases, a set of Siamese twin girls born joined at the chest and abdomen were separated on Valentine's Day this year, at 44 days old, in the northern Hebei Province. The younger one received a heart surgery at six months old.




Today's Top News
Top China News

Rally marks 50th anniversary of NPC




Forum promotes co-op links with Arab nations




Chen's separatist moves heighten tension




Financial criminals get tough penalty




CPC enhances fight against corruption




Farmers win case against government agency