Three beheaded bodies found in Iraq
(Agencies)
Updated: 2004-09-15 21:40
Three beheaded bodies were found Wednesday or a road north of Baghdad and a car bomb exploded in a town south of the capital, killing two people and injuring 10.
The attacks were the latest in an upsurge of violence that has killed more than 200 people in the country in the last four days.
The three bodies were found without documents near Dijiel, about 25 miles north of Baghdad, said Col. Adnan Abdul-Rahman of the Interior Ministry. They were all male and had tattoos, he said.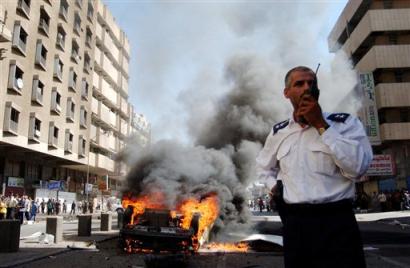 An Iraqi police officer calls for help to put out the fire after a car bomb explosion in central Baghdad, Iraq, Tuesday Sept. 14, 2004. A suicide bomber detonated himself on a busy street killing himself and injuring one pedestrian. [AP]


A U.S. military official speaking on condition of anonymity said the bodies appeared to be local nationals and that their hands were tied behind their backs.

The latest car bomb targeted a National Guard checkpoint in Suwayrah, about 40 miles south of Baghdad, Abdul-Rahman said. One national guardsman was among the dead, he said.

Meanwhile, militants released a Turkish man taken hostage in Iraq, according to a videotape obtained by Associated Press Television News.

"Today the Mujahedeen released me and I will go to the embassy," said the man, identified as Aytulla Gezmen. He was shown standing next to a masked man before getting into a car. It was not immediately clear where the release of the Arabic language translator took place.

In Ramadi, 10 people, including two women, were killed and six wounded Wednesday during clashes between insurgents and U.S. forces, according to Saad al-Amili, a senior Health Ministry official in Baghdad.

In a separate incident, the head of the provincial health directorate, Khamis Hussein, escaped unhurt when gunmen opened fire on him Wednesday, al-Amili said. One of his bodyguards was killed and his deputy was wounded in the attack, he said.

On Tuesday, clashes between U.S. troops and insurgents killed at least eight civilians and wounded 18 in Ramadi, a predominantly Sunni Muslim city west of the capital where anti-American sentiments are high.

The violence followed attacks Tuesday that saw guerrillas bomb a Baghdad shopping street full of police recruits and fire on a police van north of the capital. At least 59 people were killed, bringing the total dead in the past four days to nearly 150 in Baghdad alone.

It was the deadliest single attack in Baghdad in six months, wrecking buildings and cars on central Haifa Street, leaving charred bodies and hurling body parts, shoes and debris into nearby trees and homes.

The violence appeared to be part of an increasingly brazen and coordinated campaign to bring the battle to Baghdad, sowing chaos in the center of authority for Prime Minister Ayad Allawi and his American allies.

The insurgent attacks appear to have only grown deadlier since Allawi's interim government took power in June despite U.S. claims that Iraqi security forces are showing more resolve against the strikes.

The Tawhid and Jihad group, headed by Jordanian militant Abu Musab al-Zarqawi, posted a Web statement claiming responsibility for Tuesday's car bombing. The al-Qaida-linked group launched a surprise assault in Baghdad on Sunday, killing dozens, and boasted it had the upper hand in the fight against the Americans.

In Baqouba, northeast of the capital, gunmen in two cars opened fire Tuesday on a van carrying policemen, killing 11 officers and a civilian, said Qaisar Hamid of Baqouba General Hospital.

The release of the Turkish man came a day after a militant group said in a video that it would free Gezmen after he converted to Islam and repented working for the Americans. The Shura Council of the Mujahedeen threatened to behead all those who deal with coalition forces here.

Gezmen said in the earlier video that he had been working with the U.S. forces for seven months, adding that after his kidnapping he started to pray, read the Quran and converted to Islam. "I bear witness that there's no God but Allah and that Muhammad is Allah's messenger," he said, repeating the Muslim declaration of faith.

Huseyin Gezmen, Aytullah Gezmen's brother, told Turkey's Anatolia news agency that Gezmen called the family in the southern city of Iskenderun and was expected to return home in two days.

"We heard his voice for the first time in 52 days. We spoke to him on the telephone. My brother is back from the dead. He's at the embassy in Baghdad. He said he'll be home in two days," Huseyin Gezmen was quoted as saying.




Today's Top News
Top World News

Hu: Western systems a "dead end" for China




US Congress resolution on HK opposed




Financial criminals get tough penalty




CPC enhances fight against corruption




Blood reserve growing in quality, quantity




Farmers win case against government agency