Bielsa resigns out of the blue
(Agencies)
Updated: 2004-09-15 09:45
Argentina coach Marcelo Bielsa resigned out of the blue on Tuesday, less than one month after steering his country to their first Olympic soccer gold medal.
The 49-year-old, who had been in the job for six years, said he had run out of energy.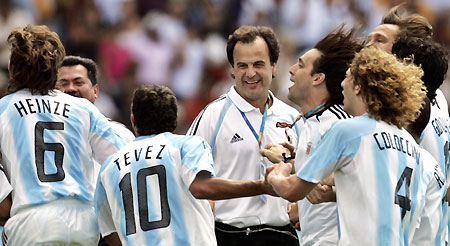 Marcelo Bielsa (C) celebrates with players after winning the gold medal at the Athens 2004 Olympic Games. [Reuters]

"Today, I resigned as coach of the Argentina national team," the introverted Bielsa told a news conference.

"I realised the amount of energy which is absorbed by the various tasks which are involved in being coach of the team ... and that I didn't have this energy any more."

Bielsa had weathered Argentina's shock first round elimination at the 2002 World Cup followed by almost two years of non-stop criticism, only to walk out at a moment when his team were playing some scintillating football.

"This decision is possibly the result of so many years of hassle, which can make it difficult to find the energy to continue," Argentina Football Association (AFA) president Julio Grondona said in a television interview.

Grondona denied that Bielsa, who had been regularly jeered and insulted at Argentina's home games since the last World Cup, would be replaced by former Boca Juniors coach Carlos Bianchi.

"There are plenty of choices," he said.

Captain Roberto Ayala was also caught cold by the news: "This news took me by surprise because I didn't notice anything at any time," he said in a radio interview.

Argentina's fortunes had changed for the better after Bielsa rebuilt the team in June, blending younger players such as forward Carlos Tevez and midfielders Javier Mascherano and Luis Gonzalez alongside established names like Cristian Gonzalez and Javier Zanetti.

His team played some excellent football at the Copa America in July before losing the final in unfortunate fashion to arch-rivals Brazil in a penalty shootout.

Bielsa then took the under-23 team -- including a number of the Copa America squad -- to the Athens Olympic Games where they won the gold medal in style with Tevez scoring eight goals.

They followed that up with a 3-1 away victory in Peru in a World Cup qualifier 10 days ago.

Argentina are second in the South American World Cup qualifying group and appear almost certain to qualify for Germany in 2006.

Bielsa's departure leaves the AFA less than one month to find a replacement before their next qualifier, at home to neighbours Uruguay on October 10.

BLACK SHEEP

Bielsa, who comes from a family of lawyers, is regarded as one of the most eccentric figures in international football and the black sheep of the family.

His older brother Rafael is Argentina's Minister of Foreign Affairs.

Bielsa remained a mysterious and enigmatic figure throughout his reign.

He rarely shows emotion, even after his team play well, and often baffles the public with his long-winded, almost scientific explanations about his tactics.

After an undistinguished playing career, Bielsa turned to coaching and was the surprise choice to replace Daniel Passarella after the 1998 World Cup.

Argentina cantered through the qualifying competition for the 2002 tournament and arrived in Japan and South Korea as favourites, only to fall at the first hurdle.

His team selections have often baffled the Argentine public.

He never allowed Hernan Crespo and Gabriel Batistuta to play together earlier in his reign and has been reluctant to give Javier Saviola an extended run in the team.




Today's Top News
Top Sports News

US Congress resolution on HK strongly opposed




Hu: Western systems a "dead end" for China




China pushes for talks on Korean issue




Financial criminals get tough penalty




CPC enhances fight against corruption




Blood reserve growing in quality, quantity