Turkey backs off plan to outlaw adultery
(Agencies)
Updated: 2004-09-15 09:28
Turkey's government backed off its plan to outlaw adultery after criticism within the European Union, strident protests from opposition politicians and a march on parliament Tuesday by hundreds of outraged Turkish women.
Government leaders had proposed an adultery ban as part of a major overhaul of the mostly Muslim country's 78-year-old penal code, which comes as the 25 EU states prepare to decide by end of the year whether to begin talks on Turkey's appeal for membership.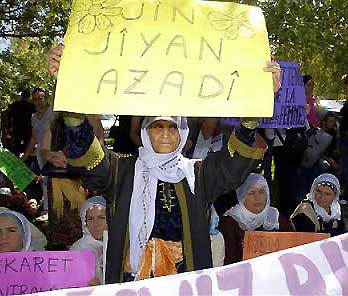 A Turklish Kurdish woman holds up a banner in Kurdish language that reads: 'Freedom for women' as hundreds of Turkish women march toward parliament to protest a proposal to outlaw adultery in Ankara on Tuesday, Sept. 14, 2004. [AP]


The government has been hoping to tack the adultery ban onto the draft penal code, apparently to appease Prime Minister Recep Tayyip Erdogan's conservative and devoutly Islamic base.

Erdogan's government, with its strong Islamic roots, has raised concerns among some Europeans and Turkish secularists who worry he might try to steer the country away from its more than eight decades of strict secularism, instituted by Ataturk, who founded modern Turkey out of the ruins of the Ottoman Empire after World War I.

But after meeting with a leader of Turkey's opposition Tuesday, Justice Minister Cemil Cicek said that only measures agreed on by the governing and opposition parties would be brought to the floor ¡ª a move certain to doom the proposal.

Ali Topuz, a senior lawmaker from the opposition Republican People's Party, made it clear that there would be no consensus. "We're strongly against the proposal on adultery, and so it will not come to the floor," Topuz told private CNN-Turk television.

The penal code package, which lawmakers began debating Tuesday, includes more severe punishments for rapists, pedophiles, torturers, human traffickers and women who kill children born out of wedlock. It also recognizes rape in marriage and sexual harassment as crimes.

Haluk Ipek, a senior member of the Justice and Development Party, had said the government would still push for a consensus on each article of its draft "including adultery." That looked virtually impossible given the opposition's objections.

The proposed ban on adultery generated strong criticism in the European Union, where there is already widespread concern about possible Turkish membership. Turkey's territory lies mostly in Asia and its cultural profile is often at odds with the more liberal leanings prevalent across the European continent.

Details of the anti-adultery proposal have not been made public. Cicek said the measure would only be applied if a spouse complains. Ipek said adulterers could face six months to two years in prison.

The debate over the penal code amendments could last all week. On Tuesday, Cicek and Deputy Prime Minister Abdullah Gul ¡ª who met with opposition leader Deniz Baykal ¡ª refused to answer questions about the adultery proposal.

Erdogan has argued an adultery law would protect the family and women who have been wronged by their husbands.

Women's groups counter that such a law would be used against women ¡ª who they say could be imprisoned and lose custody of their children. They say the measure would encourage "honor killings" in which relatives kill girls or women deemed to have disgraced the family.

About 600 people, most of them women, marched from Ankara's central square to parliament Tuesday, holding banners that said "Keep your hands off my body" and "No! to the male-dominated penal code."

Lawyer Senal Saruhan, a woman's rights advocate, said: "It's a backward approach ... that will allow the state to intervene in our private lives."

In a speech to party lawmakers, Gul called the proposed code "much more modern," and said it sought to protect women. But Gul also appeared to leave open the possibility that lawmakers might drop the adultery article.

"An article that isn't in place yet is overshadowing ... a much more important penal code," Gul said. "This is wrong."

Opposition lawmaker Erdal Karadeniz spoke against the plan, saying "adultery is not crime in any of the EU countries. It is a crime in countries governed by Shariah (Islamic law). Turkey should not be dragged to this point."

During a visit to Turkey, EU enlargement official Guenter Verheugen warned that the anti-adultery measure would create the impression Turkey was moving toward Islamic law.

British Foreign Secretary Jack Straw said Monday: "If this proposal, which I gather is only a proposal, in respect of adultery were to become firmly fixed into law, then that would create difficulties for Turkey."

Other supporters of Turkey's EU bid say the measures would help the cause of Europeans vehemently opposed to the predominantly Muslim country of some 70 million people joining the bloc.

Adultery was illegal in Turkey until 1996, when the Constitutional Court overturned the law, saying it was unequally applied. Under the earlier laws, men were deemed adulterers if they were proven to have been involved in a prolonged affair, while women could be charged if they were unfaithful once.




Today's Top News
Top World News

US Congress resolution on HK strongly opposed




China pushes for talks on Korean issue




Financial criminals get tough penalty




CPC enhances fight against corruption




Traffic accidents causing more deaths




Blood reserve growing in quality, quantity