US Congress resolution on HK opposed
(China Daily/Xinhua)
Updated: 2004-09-15 09:02
China yesterday strongly objected to a US Congress resolution on so-called "support for freedom in Hong Kong," saying it interfered in China's domestic affairs.
The Foreign Affairs Committee of the National People's Congress, the Foreign Ministry and its Commissioner's Office in Hong Kong urged the US Congress to immediately cease its interference in China's internal affairs.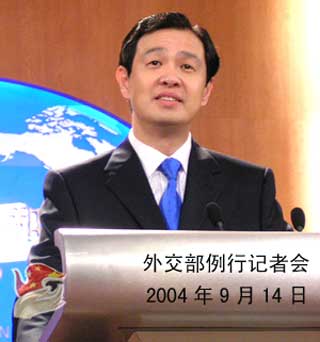 Foreign Ministry spokesman Kong Quan said at a routine news briefing on September 14 in Beijing that China strongly objected to the US Congress resolution, saying it constitutes an interference into China's internal affairs. [fmprc.gov.cn]

The US House of Representatives on Monday adopted a resolution expressing support for "freedom" in Hong Kong at the instigation of several anti-China congressmen.

"The US House of Representatives again meddled in Hong Kong's affairs and intervened in China's domestic affairs, which not only harms Hong Kong's long-term prosperity and stability and Sino-US relations, but also harms the interests of the United States," said a statement issued yesterday by the foreign ministry.

During a meeting with visiting US Assistant Secretary James Kelly, Chinese Vice-Foreign Minister Zhou Wenzhong also expressed strong dissatisfaction at and firm opposition to the resolution.

Kelly said the US side attaches importance to US-China relations and China's positions on Hong Kong and Taiwan, according to a Chinese Foreign Ministry source.

Kelly reiterated that there is no change to the US side's one-China policy and its support for the Chinese Government's implementation of "one country, two systems" and the Basic Law in Hong Kong.

The Commissioner's Office of the ministry said that the resolution hurt the feelings of the Chinese people.

Hong Kong has just concluded an election for the Legislative Council, with 60 legislators elected in the most democratic way in its history, said the office, adding the election has set a "milestone" in its history of democracy.

Facts prove once again that since 1997, when Hong Kong returned to the motherland, its residents have been enjoying unprecedented democratic rights and freedoms, said the office.

It is also a fact that Hong Kong has been progressing under the principle of "one country, two systems" and the Basic Law, it added.

The central government and the Hong Kong Special Administrative Region government have also been making efforts to guarantee the well-being of Hong Kong residents and to firmly safeguard the long-term stability and prosperity of Hong Kong, said the office.




Today's Top News
Top China News

Hu: Western systems a "dead end" for China




US Congress resolution on HK opposed




China pushes for talks on Korean issue




Financial criminals get tough penalty




CPC enhances fight against corruption




Blood reserve growing in quality, quantity