Baghdad police station blast kills 35
(Agencies)
Updated: 2004-09-14 15:50
At least 35 people have been killed in a blast near a police station in Baghdad, Reuters witnesses at the scene and at a hospital morgue says.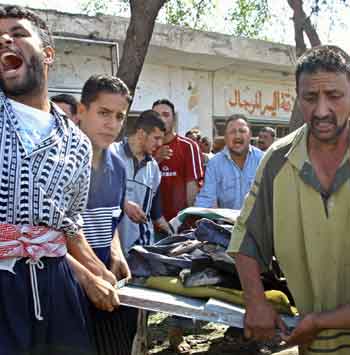 Iraqi men carry a stretcher at the scene of an explosion in central Baghdad, September 14, 2004. A huge blast tore through a crowded Baghdad market close to a police station on Tuesday and Reuters witnesses said at least 35 people were killed. The US military and Iraqi the Interior Ministry said the blast was a car bomb attack on a police station in Haifa Street. [Reuters]


A correspondent counted at least 15 bodies lying near the blast site and a Reuters' cameraman said at least 20 bodies were in the morgue of a nearby hospital.

There were conflicting reports about what caused the blast. The US military and Interior Ministry said the explosion was caused by a car bomb attack, but some witnesses said the blast was caused by a rocket or mortar.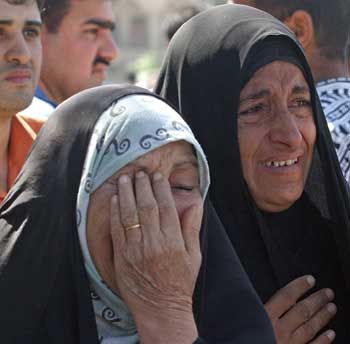 Iraqi women cry at the scene of an explosion in central Baghdad, September 14, 2004. [Reuters]


"Initial reports are that a car bomb detonated at the north end of Haifa Street," a spokesman for the US 1st Cavalry Division said on Tuesday.

He said a girls' school was also near the site of the blast.

On Sunday, guerrillas mounted multiple car bomb and mortar attacks in central Baghdad, during a day of violence in which more than 100 people were killed across the country.

Many of Sunday's casualties were in Haifa Street.

In one incident, US helicopters fired on Iraqis standing in the street near an abandoned US armoured vehicle. At least five people were killed in the incident, including a producer for Al Arabiya television. A Reuters cameraman was injured.




Today's Top News
Top World News

Three Gorges Dam protected by armed troops




Premier: Economic cool-down policy pays off




Floods threaten Silk Road grottoes




Newly elected LegCo means a stable HK




Consumer prices rise 5.3% in August




Tropical storm Haima sweeps over Wenzhou