Italian professor solves Da Vinci mystery, identifies her
(Agencies)
Updated: 2004-09-14 09:00
Italian scholar Giuseppe Pallanti claims in a new book to have identified Mona Lisa, the woman whose mysterious smile has intrigued art lovers ever since Leonardo da Vinci painted her portrait 500 years ago.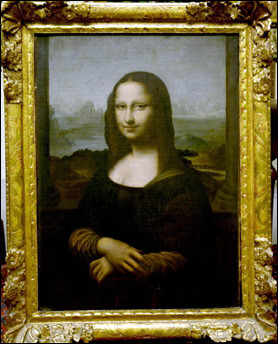 Italian scholar Giuseppe Pallanti claims in a new book to have identified Leonardo da Vinci's "Mona Lisa," seen here, as Lisa Gherardini, born in Florence in May 1479. [AFP]

Pallanti's book "Monna Lisa, Mulier Ingenua" (Mona Lisa, Real Woman) says land registry records and other historical documents prove that she was Lisa Gherardini, born in Florence in May 1479.

"I used nothing but archival records," Pallanti told AFP in an interview. "This is not a novel."

A recent blockbuster work of fiction, "The Da Vinci Code", suggests that Mona Lisa was Leonardo's disguised self-portrait. Another theory is that she never existed at all.

But Pallanti said his research shows that she was, as his title asserts, a real person, who in 1495 married a wealthy Florentine silk merchant, Francesco del Giocondo.

"When Del Giocondo took Lisa Gherardini as his second wife, she moved up in the world," Pallanti said.

"Her husband supplied textiles to the Medici family," then the dominant force in Florentine politics and culture, he noted.

One of the documents that supports his research is the will drawn up before Francesco's death in 1538, which is addressed to his wife, Pallanti said.

"Lisa Gherardini divided her life between Florence and Chianti," a wine-producing town in Tuscany, he said.

"I come from that region too and I decided to tell her story."

Lisa was about 24 years old when Leonardo began her portrait, which now hangs in the Louvre in Paris and is known in French as La Joconde, a corruption of the subject's married name, La Gioconda.

Pallanti's book highlights places such as Leonardo's birthplace, Vinci, and the village of Santissima Annunciata, where the painter lived from 1501 until 1503 and where Lisa prayed regularly in a chapel owned by her husband's family.

It notes that Leonardo's father was one of the most important notaries in Florence and that Del Giocondo was his client.

Lisa Gherardini was originally identified as the subject of the world's most famous painting by Leonardo's first biographer, the 16th-century Italian writer Giorgio Vasari.

But his claims were disputed after the painting was stolen from the Louvre in August 1911 and returned to the museum about two years later.




| | |
| --- | --- |
| | |
| Happy birthday, Leslie Cheung | |

| | |
| --- | --- |
| | |
| HK film "A1" premiers in Beijing | |

| | |
| --- | --- |
| | |
| Diving prince Tian Liang jumps for the mic | |
Today's Top News
Top Life News

Newly elected LegCo means a stable Hong Kong




Consumer prices rise 5.3% in August




Tropical storm Haima sweeps over Wenzhou




Economic cool-down policy pays off




Putin asserts control after school siege




Procurators to chase runaway officials