Building dreams in bricks and mortar
By Yang Jianxiang (China Daily)
Updated: 2004-09-14 08:56
Two square metres is just enough space on the floor to put a single bed.
Twenty years ago this was the average living space for each person in China's biggest city, Shanghai.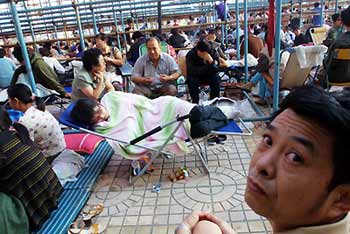 People queue to buy economically affordable apartment, which are meant to provide housing for middle-and-low-income families, in Beijing. [newsphoto/file]
"I was told that people lived in pigeon houses in Shanghai. I realized what it was like when we tried to shoot inside such a dwelling," said a Beijing-based TV director, who went to Shanghai earlier this year to make a documentary about housing reform.
"There's not enough room for the tripod and camera.
"Shanghai people are known for being meticulous. In these circumstances it's hardly surprising," the director said.
The Shanghai case may be an extreme one, but things weren't much better in other cities in the not-too-distant past.
Housing was a huge concern for most Chinese people. It was a concern that caused daily quarrels between neighbours that not infrequently led to disasters.
When Deng Xiaoping took the leadership in the late 1970s, he decided to release the housing sector from its rigid central planning. A farsighted strategist, Deng saw this not only as a way of improving people's living standards, but as an important part of the economic reforms he was to launch.
And as it turns out, the vigorous housing sector has created demand and job opportunities. In the years that followed, construction sites mushroomed across the country so that the crane was dubbed the most popular "bird" in cities. Property developers are still competing fiercely to build housing. Houses are no longer allocated free to employees by their work units. Instead, while workers get additional money to subsidize their housing, market prices are being applied to most houses. Government departments and institutions are now selling old and new housing to their staff that used to be provided almost for free.
Statistics released by the Ministry of Construction show that, in the 1949-78 period of almost 30 years, China built houses totalling 530 million square metres in floor space. In the following two decades of reforms, 1981-2001, a whopping 6.8 billion square metres of floor space was developed, 12.83 times the total space built in the three decades before reform.
Although the urban population has doubled in the last two decades, per-capita floor space still managed to grow from 7.4 square metres in 1979 to 22.8 square metres in 2002. This figure can also be translated into 70 square metres on average for each urban household.
China has for years publicized its ambition to become a moderately well-off society. In the housing sector, specific targets are an average 12 square metres of usable floor space for urban residents and 15 square metres of usable floor space of steel-wood structured housing for rural residents.
"The goals have been achieved," sources with the ministry said.
Housing the new goals
Early last year the media broke the news that the government envisioned "an apartment for every household and a room for everyone, with housing well equipped and fully functional" for residents by 2020. It is still not clear how the ministry intends to achieve these goals, but the slogan backs up the ambition to make China a moderately well-off society "in an all-round way."

The housing reform has helped many Chinese families own an apartment of their choice. [newsphoto/file]
The government's intention is that each nuclear family should have a fully functional apartment that has kitchen, bathroom and balcony, and separate or multipurpose rooms for sleeping, recreation, receiving guests and study. The number of rooms will ideally be commensurate with the number of family members, if not more. An apartment will have all the necessary utilities for modern life. Areas surrounding the actual buildings should be environmentally pleasant.
In terms of quantity, the blueprint stipulates a per-capita floor space of 23-30 square metres for urban residents and 37 square metres for rural people.
"The new norms reflect a change of ideas in residential development, from satisfying the bare needs of existence to furnishing conditions for a comfortable life. It shows the spirit of prioritizing human needs," said Professor Wang Lina, a researcher with the Chinese Academy of Social Sciences.
The last national census reveals that, by the end of 2000, in both urban and rural areas, residents had 0.78 rooms each and households 0.67 apartments each. The census also indicates that about 9.1 per cent of households still live in housing where per-capita floor space is less than eight square metres.
"There's still a long way to go before we can achieve the 2020 goals," Professor Wang said.
Rural areas are different. Official figures show per-capita habitable floor space for rural residents was up to 26.5 square metres by 2002. But the accuracy of the assessment is anybody's guess, admits one ministry official, because this part of social development is difficult to measure.
Economic reform means Chinese farmers have more money to spare and, with more readily available land, they have built new houses.
But building is often a private family undertaking, making accurate statistics all but impossible and often meaning the quality of houses suffers.
Rural houses also tend to be scattered about, making it harder for them to get the necessary utilities in their homes. Buying and selling houses like this is almost unheard of.
How to deal with the rural sector, to raise the quality of houses built and make them marketable have become big challenges facing the ministry's policymakers.
Urban challenges
Officials have tougher issues on hand in the urban sector. The Ministry of Construction, which now regards itself as a market regulator, is committed to fostering a healthy property market.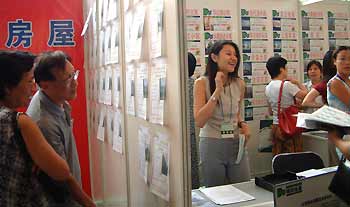 Customers study posters at an estate agency in Shanghai. [newsphoto/file]
Take Shanghai for example.
As China's economic powerhouse, Shanghai has observed soaring house prices in recent years. Its commercial house price topped 5,118 yuan (US$617) per square metre last year, about 24.2 per cent, or 1,000 yuan, up from the previous year.
The growth rate tops any other provincial-level city in China.
To maintain a sound and healthy real estate market, local legislators passed a rule that took effect on April 20 and banned the trading of commercial housing before owners get house ownership permits.
Sixteen per cent of house buying is thought to serve investment and speculating purposes in Shanghai, just below the international alarm line of 20 per cent.
So far, the nationwide property market has proceeded bumpily, plagued with shenanigans and an antagonism between greedy developers and ill-compensated residents who are often forced to vacate for housing projects.
The housing chain has yet to function effectively. Narrow-minded thinking on the part of some officials and low-level services are the main barriers, sources with the ministry said.
Economic reforms have enabled a few people to own more than one big apartment or townhouse. In the meantime, many people - the low-income, vulnerable social group who the government is most intent on helping - still live in shabby, weather-beaten housing.
At the same time, house prices in cities are largely beyond the purchasing power of most residents, especially low-income earners.
In Beijing, only about 10 per cent of all housing sells for less than 4,000 yuan (US$480) per square metre. In Shanghai, only 18 per cent of apartments are priced below 3,500 yuan (US$421.6) per square metre and in East China's Hangzhou, only 3.7 per cent are available for below 3,000 yuan (US$360) per square metre.
The government's efforts are being seen in two ways. One is sponsoring the building of so-called "economically affordable housing" that is intended to be sold to people on low incomes.
According to the ministry, China built 477 million square metres of inexpensive housing between 1998 and 2003, solving housing problems for 6 million middle- and low-income families.
This affordable housing has improved the structure of the housing market and balanced commercial house prices, said a Ministry of Construction official.
Its success has prompted the Chinese Government to back more affordable houses for these families, to become a major part of China's housing system, according to the ministry.
Another regulation that went into effect on March 1 concerns low-rent housing.
The government has vowed to provide low-rent shelter nationwide for the urban poor, who live in low-quality homes with no tap water or toilet facilities.
The regulation says some kind of housing should be available to every poor urban household in receipt of the local minimum living allowance; and whose per capita living space is less than 60 per cent of the local average.
After the adoption of the programme nationwide, the scheme will become part of China's social security system, together with medical and pension insurances and the minimum living allowance.
Rent subsidies will also be made available.
Many complexities and problems mean the housing reforms have not yet achieved all they set out to do - but already, people in Shanghai are seeing the difference between a "bed" and a "room."
Today's Top News
Top China News

Premier: Economic cool-down policy pays off




Newly elected LegCo means a stable HK




Consumer prices rise 5.3% in August




Tropical storm Haima sweeps over Wenzhou




Putin asserts control after school siege




Procurators to chase runaway officials