Police probe kindergarten attack motive
By Bao Xinyan (China Daily)
Updated: 2004-09-14 08:46
The attacker who injured 28 children at a kindergarten in Suzhou, East China's Jiangsu Province last Saturday, may have no relationship with both the kindergarten or the city, according to local officials.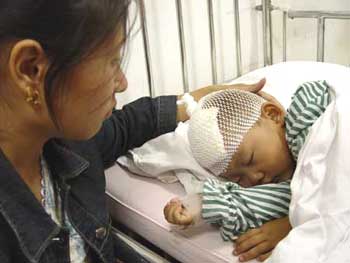 A mother comforts her injured child in a hospital after the kindergarten attack in Suzhou last Saturday. [people.com.cn]
Local police are still investigating the attack, and did not reveal the attacker's motive.
The injured children were sent to nearby hospitals, several of them were very seriously wounded. Fortunately, no deaths were reported.
Yang Guozhu, 41, broke into the Xiaojianqiao Kindergarten in the city's Wuzhong District at 10:40 am with a knife, some petrol and home-made explosives, local police said.
He slashed the children and was about to set the petrol and explosives alight when policemen arrived in time to stop him.
However, witnesses said there were altogether three attackers. Two escaped before the policemen came.
Yang has three brothers, one was in prison. He and the other two were awaiting trial, police said.
"The three women teachers were greatly frightened and could not even move when seeing the tragedy," said Wang Huiying, who lives nearby.
None of the teachers had received any kind of safety training.
Some parents and witnesses said more than 28 children were injured.
And most of the children were injured in the head, face and neck, said a doctor at Wuzhong District People's Hospital, who wished to remain anonymous.
Although some of the children have now left hospital, their parents do not want to bring them home.
A parent surnamed Hu worried that the attack might have a long-lasting psychological impact on her child. "We feel better when the children are still in hospital," she said.
Xiaojianqiao Kindergarten is a private day-care centre for children of migrant workers, which has not yet been approved by the Suzhou Education Bureau.
There are more than 50 children in the kindergarten, aged between 3 and 6.
And only two of them are registered permanent residents in the city.
Today's Top News
Top China News

Newly elected LegCo means a stable Hong Kong




Consumer prices rise 5.3% in August




Tropical storm Haima sweeps over Wenzhou




Economic cool-down policy pays off




Putin asserts control after school siege




Procurators to chase runaway officials