Deadly Ivan lashes Cuba with wind, waves
(Agencies)
Updated: 2004-09-14 08:34
Whipping winds and walloping waves lashed western Cuba and its tobacco-growing region Monday, as Hurricane Ivan strengthened to a Category 5 storm — the most powerful — and barreled along on a new course toward the US Gulf Coast.
The wall of Hurricane Ivan's eye brushed the tip of Cuba at about 6:45 p.m. as it moved through the Yucatan Channel on its way to the Gulf of Mexico, the island's top meteorologist reported.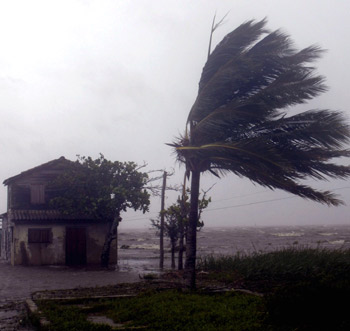 A flooded house stands on the sea shore of Playa Cana, in the Province of Pinar del Rio, as Hurricane Ivan advances near the western part of Cuba, September 13, 2004. Ivan, leaving a trail of battered islands and at least 68 dead in a rampage across the Caribbean, churned closer towards Cuba on Monday with 160 mph winds, on a path that could take it to US shores. [Reuters]


The slow-moving storm, carrying 160 mph winds, has already killed at least 68 people in the Caribbean and Venezuela and could hit the Florida Panhandle, Louisiana or Mississippi by Wednesday.

As Ivan moved in, Cuban state television reported waves up to 15 feet crashing onto the southern coast of the Isla de Juventud southwest of the main island. Ham radio operators reported downed trees and power lines, the US National Hurricane Center in Miami said.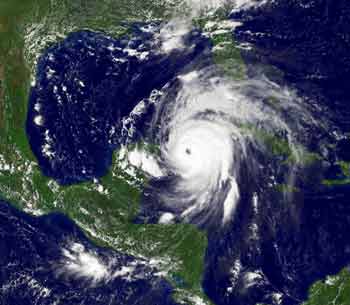 NOAA satellite image of Hurricane Ivan taken at 2:45 p.m. EDT on September 13, 2004 as the powerful Category 5 storm makes its way toward western Cuba. [Reuters]


Ivan swirled toward cropland that produces Cuba's famed cigars, a region still recovering from the effects last month of Hurricane Charley. About 1.3 million Cubans were evacuated from particularly vulnerable areas.

The tobacco crop — the country's third-largest export — was safe, according to top grower Alejandro Robaina. Planting doesn't begin until next month, and what remains of the January harvest are protected in curing houses.

"I think we are going to escape the worst of it," Robaina said.

As the hurricane's western edge drenched fields in Cuba's Pinar del Rio province, 20-foot-tall waves still were slamming the sea wall at the port in George Town, Grand Cayman, the wealthy British territory that is a popular scuba diving destination and offshore banking center.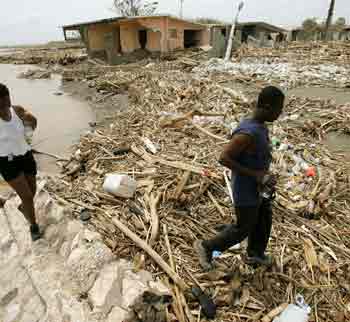 Jamaicans walk near houses September 13, 2004, which were destroyed by Hurricane Ivan in Kingston. [Reuters]


An Italian yachtsman was rescued off Grenada on Monday after riding out Hurricane Ivan and being trapped nearly a week aboard his boat, police said.

The storm was also expected to deliver strong waves, rain and wind to Mexico's Yucatan Peninsula to the southwest. The island of Cozumel shut its airport, halted the arrival of cruise ships and prohibited all maritime navigation. Visitors to Cancun were advised not to stray from their hotels.

As Mexicans cast a wary eye eastward, a second hurricane, Javier, was building up strength Monday far off Mexico's Pacific coast. But the hurricane, with maximum sustained winds of 103 mph, had shifted farther to the west since its initial formation, greatly reducing the threat to Mexico, the US National Hurricane Center in Miami said Monday.

At 5 p.m. Ivan's dangerous eye was 30 miles south of Cuba's western tip and it was expected to hit directly or brush by. Though its hurricane-force winds extend 115 miles and tropical storm-force winds another 220 miles, only about 10 miles of Cuba's sparsely populated western tip was forecast to suffer Ivan's devastatingly forceful top winds, said Stacy Stewart, a hurricane specialist at the Hurricane Center.

It looked like part of the eye would cross the island, "not technically a direct hit but near enough," Stewart said.

The Hurricane Center warned of coastal storm surge flooding of up to 25 feet above normal tides with "large and dangerous battering waves" east of where it might make landfall. It also warned of life-threatening flash floods and mudslides.

Ivan was moving toward the north-northwest at 9 mph, with a more northwestward motion expected.

Although some forecasters predicted the storm would weaken Tuesday over the cooler waters of the northeastern Gulf of Mexico, Gulf Coast residents spent Monday boarding up their houses, tying up their boats and making plans to evacuate. Emergency officials in several Florida Panhandle counties were expected to decide Monday on evacuating fishing villages and beach communities.

At times along its wobbly path, forecasters had predicted Ivan could make direct hits on either the Florida Keys or populous South Florida, only to see it veer west of both areas.

Only three Category 5 storms are known to have hit the United States. The last was Hurricane Andrew, which hit South Florida in 1992, killing 43 people and causing more than $30 billion in damage.

Oil prices shot up nearly US$1.50 a barrel Monday as oil and natural gas producers evacuated rigs in the Gulf of Mexico. Shell Oil said it was evacuating 750 workers from the gulf.

Including Cuba, Ivan will have swirled across 11 countries. It has killed at least 39 people in Grenada, 15 people in Jamaica, five in Venezuela, four in the Dominican Republic, three in Haiti, one in Tobago and one in Barbados.

In Jamaica, stores and shelters filled with more than 15,000 people were running short of food, according to Nadene Newsome of Jamaica's emergency relief agency. Officials planned to fly food into cut-off areas by helicopter.

About 98 percent of the island was still without power and 40 roads were blocked by debris. The airport in Kingston, Jamaica's capital, reopened Monday.

In Grenada, devastated by a direct hit last week, survivors struggled to rebuild. More than 90 percent of the island's homes were damaged or destroyed.

Ivan's eye skirted Jamaica's south coast, as it did Grand Cayman on Sunday.

Though it didn't directly hit the Caymans' three-island chain, the storm lashed the British territory Sunday with 150-mph winds.

Nearly half of the 15,000 homes on Grand Cayman suffered some damage, said Donnie Ebanks, deputy chairman of the National Hurricane Committee.

Many hotels were damaged, including the Beach Club Colony Resort, whose second floor was torn away in the lashing winds.

"The island looks like a war zone," said Diana Uzzell, a business manager on Grand Cayman, where the storm flung huge pleasure yachts up on land, flung a liquor store sign into the Scotia Bank building and toppled trees three stories high. Streets and driveways were littered with debris.

As telephone service was restored Monday, Caymanians began calling families who had fled to Houston, Texas.

"There's nothing to come home to," Gary Rutty told his wife, Angel, an evacuee who was staying in Houston with their three children.

In Cuba, dozens of families in the west coastal La Coloma area bundled up clothes, medicine, furniture and television sets before boarding buses to find shelter.

"I have to protect myself and save the lives of my family," said Ricardo Hernandez, 44.

Hurricane Charley killed at least four people and caused an estimated US$1 billion in damage when it battered western Cuba last month. The storm knocked out power in some regions for more than 10 days, and the electrical grid still suffers sporadic blackouts, including in Havana.

The last Category 5 storm to make landfall in the Caribbean was Hurricane David, which killed more than 1,000 people and devastated the Dominican Republic in 1979, said Rafael Mojica, a Hurricane Center meteorologist.




Today's Top News
Top World News

Newly elected LegCo means a stable Hong Kong




Consumer prices rise 5.3% in August




Tropical storm Haima sweeps over Wenzhou




Economic cool-down policy pays off




Putin asserts control after school siege




Procurators to chase runaway officials