Putin asserts control after school siege
(Agencies)
Updated: 2004-09-14 07:57
President Vladimir Putin ordered sweeping changes to Russia's political system on Monday to help combat terrorism, but immediately drew accusations of exploiting this month's bloody school siege to boost his power.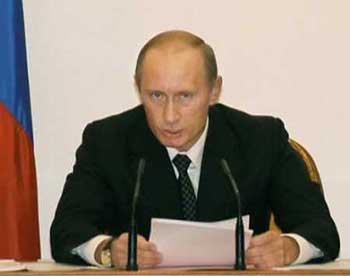 Russian President Vladimir Putin speaks during a cabinet meeting in Moscow, September 13, 2004. Putin on Monday ordered sweeping changes to Russia's political system to help combat terrorism, but immediately drew charges he was exploiting a bloody school siege to boost his personal power. [Reuters]


The Kremlin leader, speaking in the wake of the hostage crisis in Beslan, told top officials he wanted a new election law to limit the number of political parties and to have full control over nominating regional leaders.

Putin, 51, said the changes were vital to boost state authority after the Beslan tragedy, in which children made up half of the hostages killed when Chechen rebels raided their school in southern Russia.

"The fight against terrorism should become a national task," Putin told ministers and governors from Russia's 89 regions.

The president later issued a decree giving the government two weeks to draft proposals to deal with emergencies and a month to prepare "appropriate measures on foreseeing and preventing terrorism in any form."

It called for proposals to improve the work of security forces, whose performance in Beslan has been widely criticized, and to toughen controls on issuing visas and entering Russia.

Critics said Putin's proposed changes were further proof that the former KGB spy, who has muzzled major independent media and turned parliament and government into rubber stamps of Kremlin policy, was rolling back post-Soviet democracy.

"The last link in the system of checks and balances, which has prevented an excessive concentration of power in one pair of hands, is being abolished," the opposition party Yabloko said in a statement.

Putin, re-elected to the Kremlin by a landslide in March, said reform was required in view of the threat from terrorism.

CHANGING THE ELECTORAL SYSTEM

He said the State Duma, parliament's lower house, should now be elected solely from party lists.

After a massive Kremlin-backed campaign against Communists and liberal parties, the pro-Kremlin United Russia secured more than two-thirds of seats in the Duma in the last election.

Half the Duma's 450 deputies are elected on party lists and the main parties also take many of the local constituencies that account for the other seats. But almost 100 returned independent deputies or members from parties which won no seats on lists.

"In the interests of strengthening the national political system I deem it necessary to introduce a proportional system of elections to the State Duma," Putin said. "I will soon initiate an appropriate bill in the Duma."

Putin also said the Kremlin should have a decisive say over the nomination of regional governors.

"Top officials in the members of the Federation should be elected by local legislative assemblies by nomination of the head of state," Putin said.

His rivals said the changes would entrench the Kremlin's domination of the legislature but do nothing against terrorism.

"Putin has proposed renting out parliament to puppet Moscow-based parties," said Vladimir Ryzhkov, a rare liberal independent in the Duma. "In fact this will only strengthen his personal powers."

"The will of a single person is imposed on the whole of society," echoed Communist party leader Gennady Zyuganov. "What he is looking for is the usurping of power."

Independent-minded governors were a major force under Putin's predecessor Boris Yeltsin, but Putin ousted them from the upper house and replaced them with nominated proxies.

"The president's proposal will contribute to consolidation of power," pro-Kremlin analyst Sergei Markov told Ekho Moskvy radio.

"But at the same time it means an end to direct gubernatorial elections, which will lead to a diminishing of the role of local authorities and to a general decline of pluralism in the country."




Today's Top News
Top World News

Newly elected LegCo means a stable Hong Kong




Consumer prices rise 5.3% in August




Tropical storm Haima sweeps over Wenzhou




Economic cool-down policy pays off




Putin asserts control after school siege




Procurators to chase runaway officials