Premier: Economic cool-down policy pays off
By Xu Binglan (China Daily)
Updated: 2004-09-14 00:43
Premier Wen Jiabao said Monday the government is moving closer towards its goal of an investment cool-down and a healthy economic system and said the authorities should continue to strictly control the use of land for new projects and credit growth to prevent further economic overheating.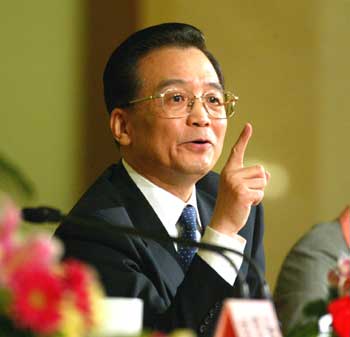 Premier Wen Jiabao said China is closer to achieve the goal of an investment cool-down and healthy economic system. Wen speaks at a press conference in this March 14, 2004 file photo. [newsphoto]

Wen told a meeting of the State Council that the nation's economic performance is stable and is showing some favourable signs.

Growth in fixed asset investment and loans -- two key indicators that policy makers have been closely watching for the impact of the cooling-down measures -- has been declining.

"It proves that our policies and measures are correct and effective," he said.

State Council members agreed that the macroeconomic adjustment and control measures should be maintained and implemented seriously.

"The policies should be stable," Wen said.

China's M2, a major measurement of money supply and a key indicator of credit growth, grew 13.6 per cent year-on-year by the end of August, the central People's Bank of China announced Monday. This compares to 16.2 per cent at the end of June and the end of last year.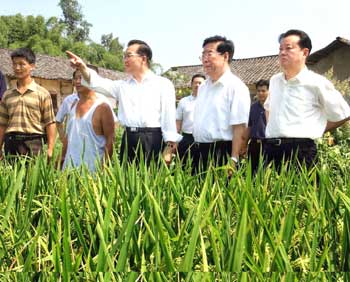 Premier Wen Jiabao (center) inspects agriculture production in Yuechi county, southwest China's Sichuan province during his inspection trip August 5-8, 2004. [newsphoto]

Figures for investment growth have yet to be officially released. But National Bureau of Statistics spokesman Yao Jingyuan was quoted by Reuters as saying that fixed asset investment grew 26.3 per cent year-on-year last month. This compares to 31.1 per cent in July and 28.6 per cent during the first half of the year.

Wen said that the essence of this round of macro-control is to adjust the economic structure and reform unhealthy systems and mechanisms.

A combination of economic, legal and administrative measures were being used to solve these problems, he said.

But the government did not implement the measures in a sweeping manner. Instead, it only suppressed some sectors while supporting others, Wen said.

While controlling investment in some industries, the government actually increased its input into agriculture, considered a weak point at the moment.

Steel, aluminium and cement are among the sectors that the government has named for their excessive investment.

Policy makers have noted that the problems were caused by defects in the economic system.

"We should pay special attention to reforms to solve the problems in the economic systems and mechanisms to consolidate the achievements of the macro-economic control and adjustment," Wen said.

Participants in the meeting agreed that efforts are still required to control the size of fixed asset investment. The key to this is to tightly control land use and credit, Wen said.

State Council members called for the improvement of the land management system and the establishment of a clear responsibility system.

They also said money supply and credit growth should be kept within a reasonable range.

The conference also discussed the management of prices and the stock market.

Grain and food prices should be kept stable and remain at a reasonable level, they said.

Measures are also needed to safeguard the interests of the capital market, they said.

The Chinese economy grew 9.7 per cent during the first half of this year.




Today's Top News
Top China News

Premier: Economic cool-down policy pays off




Newly elected LegCo means a stable HK




Consumer prices rise 5.3% in August




Tropical storm Haima sweeps over Wenzhou




Putin asserts control after school siege




Procurators to chase runaway officials