Only 1/5 young Britons would fight for country
(Agencies)
Updated: 2004-09-13 23:50
Only one in five young Britons would fight unconditionally for their country, while a similar number would refuse to take up arms "under any circumstances," according to an opinion poll.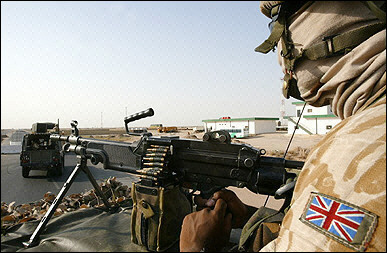 British troops on patrol near Basra. Britain will withdraw from Iraq when democratic elections rather than "terrorists" and supporters of ousted president Saddam Hussein determine its future, Prime Minister Tony Blair vowed. [AFP]


The poll results are likely to worry policymakers, as they show a level of scepticism about military action that has not been seen since the 1930s, according to The Times which published the survey on Monday.

The daily added that the exposure brought by British troop involvement in Afghanistan and Iraq "has decreased support for the call to take up arms."

According to The Times, 19 percent of the 1,004 adults aged 18 to 30 questioned for the Populus poll would not take up arms for their country "under any circumstances."

A further 57 percent said that they would fight only if "they agreed with the reasons for the conflict," it said.

Only 22 percent said they would fight for their country if called upon to do so, the poll said.

The poll appears to be backed up by army recruitment figures that show the armed forces are now under strength by at least 4,800, the daily said.

"I cannot think of a period since the 1930s when there have been similar levels of scepticism about military action," Michael Clarke, director of the International Policy Institute at Kings College London, told the Times.




Today's Top News
Top World News

Consumer prices rise 5.3 per cent in August




Tropical storm Haima sweeps over Wenzhou




Economic cool-down policy pays off




Procurators to chase runaway officials




Newly elected LegCo means a stable SAR




Efforts to combat communicable diseases