Suspected militant hideout bombed in Iraq
(Agencies)
Updated: 2004-09-13 20:39
U.S. warplanes pounded a suspected hideout of al-Qaida-linked militants in the Sunni insurgent stronghold of Fallujah on Monday, killing at least 16 people and wounding 12, officials and witnesses said. The strike came a day after a surge in violence killed 78 people across Iraq.
The U.S. military said jets carried out a precision strike on a site in Fallujah where forces loyal to Jordanian-born terror suspect Abu Musab al-Zarqawi were meeting.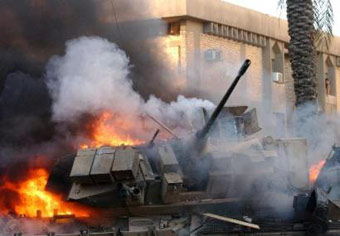 A U.S. Bradley armored vehicle burns in street following heavy clashes in the center of the Iraqi capital Baghdad, September 12, 2004. Strong explosions shook central Baghdad at dawn and heavy fighting erupted in a street notorious as a rebel stronghold, in violence that killed at least 22 Iraqis, the U.S. army and witnesses said. [Reuters]


"Intelligence sources reported the presence of several key al-Zarqawi operatives who have been responsible for numerous terrorist attacks against Iraqi civilians, Iraqi Security Forces and multinational forces," the military said in a statement.

The military said reports indicated the strikes had achieved their aim but did not name the operatives.

Witnesses said the bombing targeted the city's residential al-Shurta neighborhood, damaging buildings and raising clouds of black smoke.

Dr. Adel Khamis of the Fallujah General Hospital said at least 16 people were killed, including women and children, and 12 others wounded. An ambulance rushing from the area of the blasts was hit by a shell, killing the driver, a paramedic and five patients inside the vehicle, said another hospital official, Hamid Salaman.

"The conditions here are miserable — an ambulance was bombed, three houses destroyed and men and women killed," the hospital's director, Rafayi Hayad al-Esawi, told pan-Arab Al-Jazeera television by telephone. "The American army has no morals."

Witnesses said U.S. warplanes repeatedly swooped low over the city and that artillery units deployed on the outskirts of the city also opened fire. The explosions started at sunrise and continued for several hours.

One explosion went off in a marketplace in Fallujah as the first vendors began to set up their stalls, wounding several people and shattering windows, witnesses said.

U.S. forces pulled out of Fallujah in April after a three-week siege that left hundreds dead and a trail of devastation. The U.S. Marines have not patrolled inside Fallujah since then and Sunni insurgents have strengthened their hold on the city.

West of Baghdad, assailants broke into a local police station in Latifiyah and forced the handful of officers inside to leave before blowing up the building, police said Monday.

Nobody was injured in the Sunday night blast, said police Lt. Col. Sahi Abdullah. Iraqi police have regularly been attacked by insurgents who view them as collaborators with American troops.

Also Sunday, insurgents hammered central Baghdad with intense mortar and rocket barrages, heralding a day of violence that killed 78 people nationwide as security appeared to spiral out of control.

At least 37 people were killed in Baghdad alone. Many of them died when a U.S. helicopter fired on a disabled U.S. Bradley fighting vehicle as Iraqis swarmed around it, cheering, throwing stones and waving the black and yellow sunburst banner of Iraq's most-feared terror organization.

The dead from the helicopter strike included Arab television reporter Mazen al-Tumeizi. An Iraqi cameraman working for the Reuters news agency and an Iraqi freelance photographer for Getty Images were wounded.

The Health Ministry reported Monday that 78 people were killed in violence across the country Sunday, an increase it said was due to new reports of deaths overnight.

Some 200 people were wounded, more than half of them in Baghdad.

In a visit to the southern city of Basra, interim Prime Minister Ayad Allawi vowed to pursue insurgents.

"We are adamant that we are going to defeat terrorism," Allawi said. "We intend to confront them and bring them to justice."

Secretary of State Colin Powell acknowledged that the U.S.-led coalition faced a "difficult time" in Iraq but said the United States had a plan to quash the insurgency and bring those areas under control in time for national elections in January.

The insurgency "will be brought under control," Powell said on NBC's "Meet The Press." "It's not an impossible task."

Elsewhere, the governor of the northern Kurdish province of Dahuk escaped an assassination attempt when a roadside bomb went off as his car was passing by, police said. There were no injuries.

Gov Netshevan Ahmad was on his way to work in Dahuk when the device exploded, said police Col. Mohammed Doski. Nobody was injured in the attack.

It was the first such attack in the largely peaceful city of Dahuk and surrounding province that bears the same name since the U.S. invasion in Iraq began in March last year.

On the Iraqi political front, a government official announced Monday that Minister of State Qassim Dawoud has been designated as an adviser to the prime minister for national security, a government official said Monday.

The official, speaking on condition of anonymity, said the Cabinet shifted Dawoud's responsibility from minister of state for military affairs to minister of state for national security and an adviser to Allawi.

The move is likely to encroach on the political turf of Iraq's national security adviser, Mouwaffaq al-Rubaie, and Deputy Prime Minister Barham Saleh, whose responsibilities also include national security affairs. It was unclear how the three would coordinate their jobs.

Dawoud went on television last week to announce the capture of ousted dictator Saddam Hussein's deputy, Izzat Ibrahim al-Douri, only to see the claim proved untrue.




Today's Top News
Top World News

N. Korea: Mushroom clouds from hydropower project




NBS: China's CPI stays at 5.3% in August




Vice premier predicts growth over 7% by 2020




60-member HK Legislative Council elected




Experts: China, more than a world factory




Tropical storm lands in east China