N. Korea: Mushroom clouds from hydropower project
(Agencies)
Updated: 2004-09-13 14:58
North Korea said Monday last week's explosion in a remote northern area was part of a hydro-electric project, the BBC quoted the North's foreign minister as telling a visiting British official.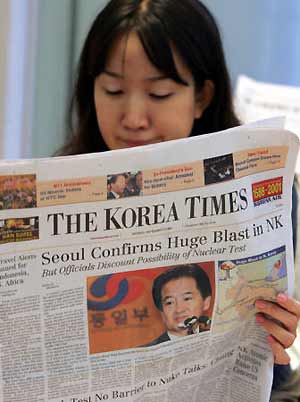 A South Korean woman in Seoul September 12, 2004 reads a local newspaper which reports an explosion occurred in North Korea. [Reuters]
Foreign Minister Paek Nam-sun told British Foreign Office minister Bill Rammell that the blast was the deliberate demolition of a mountain for the project, the BBC said.
Rammell is the highest British official to visit Pyongyang and he had been expected to meet the North's leader Kim Jong-il.
South Korean officials Sunday confirmed indications of a large explosions in the region bordering China on the night of Sept. 8 and early morning of Sept. 9.
SPECULATIONS
Initial reports of a possible nuclear test had been questioned by South Korean and U.S. officials who said there was a lack of signature signs.
South Korean intelligence detected two explosions on the night of Sept. 8 to 9, the JoongAng Ilbo said. The South Korean government has all but ruled out the possibility of a nuclear test by North Korea in the northeastern region of Ryanggang between Sept. 8 and 9, the reports said.
"There is a possibility of an accident at a military factory or a munitions depot dug underground," the JoongAng Ilbo newspaper quoted a source in South Korea as saying.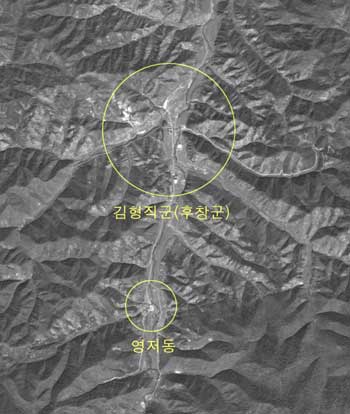 This picture taken by South Korean satellite Arirang-1 on September 26, 2000, shows a part of Kimhyungjik county in North Korea's northern Ryanggang province. [Reuters]

Another South Korean daily, Chosun Ilbo, said the explosion left marks as if a blast set off by an equivalent of 1,000 tonnes of dynamite had hit a munitions depot or a military cargo train carrying explosives. The blast produced a smoke cloud that stretched to four kilometers, the newspaper said.

U.S. officials, including Secretary of State Colin Powell, also played down the possibility of a nuclear test.

Powell said there was "no indication that that was a nuclear event of any kind. Exactly what it was, we're not sure." Asked on ABC's "This Week" if North Korea had tested a nuclear device, Powell said, "No."

The New York Times reported in its Sunday editions the Bush administration had received recent intelligence reports that some experts believed could indicate North Korea was preparing to conduct its first nuclear weapons test explosion.

The news broke as South Korea, Japan, China, Russia and the United States sought to persuade Pyongyang to resume talks on its nuclear ambitions. The North, which threatened at earlier talks to test an atomic bomb, says it sees no need for more talks.




Today's Top News
Top World News

N. Korea: Mushroom clouds from hydropower project




Vice premier predicts growth over 7% by 2020




60-member HK Legislative Council elected




Man attacks Suzhou nursery, 28 injured





Research labs power China's next boom




Survey aims to discover, curb AIDS spread