Street renamed to honor Chinese American hero
(Xinhua)
Updated: 2004-09-13 11:29
A street in New York's Chinatown was renamed "Zhe Zack Zeng Way" Saturday in honor of Zack Zeng, a Chinese American who sacrificed his life to rescue people during the Sept. 11 terror attacks in 2001.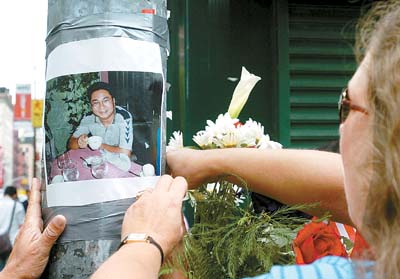 Former colleagues of Chinese American hero Zack Zeng post his picture on a street in New York's Chinatown during a ceremony Saturday to name the street after Zack who sacrificed his life rescuing people during the Sept. 11 attack in 2001. [Xinhua]

At a renaming ceremony at an intersection in Chinatown, New York City Council member Allan Gerson said the street renaming created a visible tribute that would remind younger generations of the inspiring heroism and humanity displayed by so many New Yorkers and exemplified by the brave actions of Zeng on Sept. 11, 2001.

Addressing the ceremony, Ambassador Liu Biwei, consul general of the Chinese Consulate-General in New York, said Zeng was the pride of both the Americans and the Chinese.

ZengĄ¯s mother, Cen Jiaoxian, said her son's actions testified to the fact that immigrants are willing and able to contribute to their new country and even dedicate their lives.

Zeng, an immigrant from China's Guangdong Province, came to the United States in the late 1980s. After graduating from the University of Rochester with an MBA in 1998, he began working in the Bank of New York, which is two blocks from the World Trade Center. On Sept. 11, 2001, he risked his life by assisting a firefighter in helping two injured women and later he returned to the scene which was filmed by chance by Fox 5 TV channel.

Several months later, the New York police informed ZengĄ¯s mother that her sonĄ¯s remains had been recovered from the ruins and identified by a DNA test.




| | |
| --- | --- |
| | |
| HK film "A1" premiers in Beijing | |

| | |
| --- | --- |
| | |
| Diving prince Tian Liang jumps for the mic | |

| | |
| --- | --- |
| | |
| Guests arrive for Brunei crown prince's wedding | |
Today's Top News
Top Life News

Vice premier predicts growth over 7% by 2020




Man attacks Suzhou nursery, 28 injured





Research labs power China's next boom




Survey aims to discover, curb AIDS spread




Record high turnout in HK LegCo election




WHO warns of global outbreak of bird flu