New spasm of violence kills 110 in Iraq
(Agencies)
Updated: 2004-09-13 07:46
At least 110 people were killed across Iraq on Sunday in a sharp escalation of violence that saw gun battles, car bombs and bombardments rock the capital.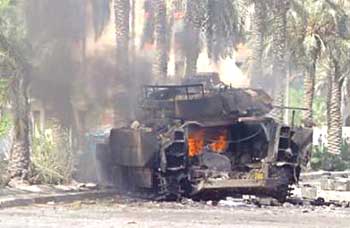 A U.S. Bradley armored vehicle burns in street following heavy clashes in the center of the Iraqi capital Baghdad, September 12, 2004. Strong explosions shook central Baghdad at dawn and heavy fighting erupted in a street notorious as a rebel stronghold, in violence that killed at least 22 Iraqis, the U.S. army and witnesses said. [Reuters]

The Health Ministry said the worst casualties were in Baghdad, where 37 were killed, and in Tal Afar near the Syrian border where 51 people died.

The capital suffered at least seven car bombs, and insurgents fired a dozen mortar bombs or rockets around the so-called Green Zone compound housing Iraq's interim government and the U.S. embassy.

It was one of the heaviest barrages in Baghdad for months. "We've seen a tremendous increase in the number of attacks," said Brigadier General Erv Lessel, a U.S. military spokesman.

Witnesses and officials said 13 people were killed and 61 wounded in fierce battles in central Baghdad.

A U.S. helicopter opened fire on a crowd milling around an abandoned armored vehicle, killing a television journalist reporting from the scene. The U.S. military said its aircraft had been shot at from the crowd.

U.S. troops mounted a major offensive on Thursday in Tal Afar, a suspected haven for foreign fighters about 60 miles from Syria. The military gave no immediate explanation for the heavy death toll there.

THREE POLISH SOLDIERS KILLED

South of Baghdad, three Polish soldiers were killed and three wounded when they were attacked near Hilla.

In rebel-occupied Ramadi, west of Baghdad, U.S. tanks and helicopters fired on a residential district, killing 10 Iraqis, including women and children, a doctor said. The U.S. military had no immediate comment.

The surge in violence coincided with new U.S. offensives to recapture insurgent-held areas before elections due in January.

U.S. national security adviser Condoleezza Rice said there would "undoubtedly be violence up until the elections and probably even during the elections."

"But it is entirely possible to hold these elections," she told CBS TV, adding President Bush's administration was standing by its goal of seeing them held by January.

Heavy fighting erupted in Haifa Street, a thoroughfare in central Baghdad notorious as a rebel stronghold. The crackle of gunfire echoed for several hours as U.S. tanks and tank-like Bradley fighting vehicles moved into the area.

Witnesses said a U.S. helicopter fired at a group of Iraqis crowded around a burning Bradley. Reuters Television images showed Iraqis running for cover shortly before a blast felled Mazen Tomeizi, a producer with Dubai-based Al Arabiya TV.

PALESTINIAN TV PRODUCER DIES

The Palestinian died soon afterwards. Reuters cameraman Seif Fouad, recording the scene, was also wounded in the blast.

"I looked at the sky and saw a helicopter at very low altitude," Fouad said. "Just moments later I saw a flash of light from the Apache. Then a strong explosion," he said.

"Mazen's blood was on my camera and face," Fouad said from his hospital bed. He said his friend screamed at him for help: "Seif, Seif! I'm going to die. I'm going to die."

The U.S. military said two of its helicopters had opened fire after coming under attack from the crowd.

"As the helicopters flew over the burning Bradley they received small arms fire from the insurgents in vicinity of the vehicle," a military statement said. "Clearly within the rules of engagement, the helicopters returned fire destroying some anti-Iraqi forces in the vicinity of the Bradley."

Earlier, the U.S. military had said a helicopter destroyed the vehicle "to prevent looting and harm to the Iraqi people" after four U.S. soldiers were lightly wounded in the attack on the Bradley.

Sunday's violence began at dawn when insurgents fired at the heavily fortified Green Zone. Some rounds landed inside the compound but there were no reports of casualties.

In other incidents, a car bomb killed a senior police officer, another policeman and a 12-year-old boy on a highway west of Baghdad. A suspected suicide bomber tried to drive through the gates of Abu Ghraib prison but U.S. troops shot and killed him, the military said. Three people were wounded.

Interior Minister Falah al-Naqib said much of the violence was related to security force raids which netted 16 fugitives.

An Internet statement by Jordanian militant Abu Musab al-Zarqawi's Tawhid and Jihad Group, blamed by Washington for much Iraq unrest, claimed responsibility for the violence.

Another Internet statement from the previously unknown Islamic Jihad Organization threatened that two kidnapped Italian aid workers would be killed unless Italian troops withdrew.

U.S.-led forces have attacked several militant strongholds this month, bombing targets in Falluja west of Baghdad and moving into Tal Afar.




Today's Top News
Top World News

Vice premier predicts growth over 7% by 2020




Man attacks Suzhou nursery, 28 injured





Research labs power China's next boom




Survey aims to discover, curb AIDS spread




Record high turnout in HK LegCo election




WHO warns of global outbreak of bird flu