Man attacks Suzhou nursery, 28 injured

By Wang Ying (China Daily)
Updated: 2004-09-13 07:40
A knife-wielding attacker broke into a kindergarten in Suzhou, Jiangsu Province, on Saturday and slashed the children, injuring 28.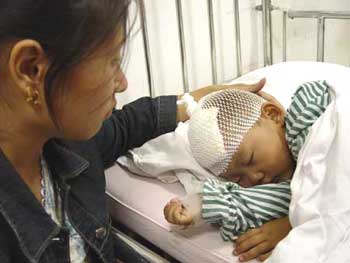 A mother comforts her child in a hospital. [people.com.cn]

The injured were rushed to nearby hospitals and no deaths were reported, local police said.

The suspect, 41-year-old Yang Guozhu, broke into the day-care centre for children of migrant workers in the city's Wuzhong District at 10:40 am with a knife, some petrol and home-made explosives, police said.

He hurt 28 children and was about to set the petrol and explosives alight when policemen arrived in time to stop him.

The injured children were rushed to Suzhou No 2 People's Hospital, Suzhou Children's Hospital and the People's Hospital of Wuzhong District for emergency treatment. None of them had been seriously wounded and their condition was reported to be stable, according to doctors.

The children were sent to the day-care centre by their parents, all rural migrant workers who have to work at the weekend.

Witnesses said they heard a loud bang from the temporary kindergarten and saw a man holding a blood-soaked 30-40 centimetre knife as he was being caught by police at the kindergarten's entrance.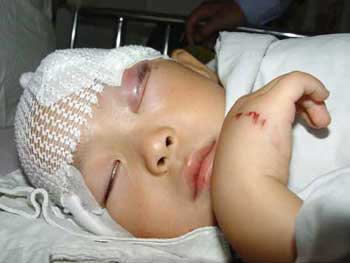 An injured child falls asleep while receiving treatment in a hospital. [people.com.cn]

People living in the vicinity of the kindergarten said about 40 children and three teachers were in the kindergarten when the incident took place.

The attacker Yang is a native of Muyang County in the province, but is currently living in Wuzhong District, according to the police.

An investigation is taking place into the attack. Police said they have yet to find a motive.

This is the third time that tragedy has struck a kindergarten in China in the past few weeks, triggering a debate over security at the institutions.

On August 4, a gatekeeper at the kindergarten run by the No 1 Hospital of Peking University stabbed 15 children aged from 2 to 6 and three female teachers, leaving one child dead, and two other children and a teacher seriously wounded.

Several days later, a kindergarten building in Central China's Henan Province collapsed, killing two children and leaving 28 others in hospital for further treatment and medical observation.

The National Education Supervision and Guidance Group decided to make kindergarten security the top priority of its work this year.

"All kindergartens, especially private ones, must draw up strict safety regulations, adopt a responsibility system for administrative personnel, and improve hygiene," the Ministry of Education said in an urgent circular published last month.

All kindergarten staff, including sponsors, administrative personnel and teachers, have been ordered to carefully study and strictly observe relevant national regulations on kindergarten management, the ministry said.

The ministry also ordered all local governments to carry out a general overhaul of kindergarten security across the country, involving classrooms, indoor and outdoor playgrounds, teaching materials, toys, dining halls, food, fire prevention facilities, school buses and the surrounding environment.




Today's Top News
Top China News

Vice premier predicts growth over 7% by 2020




Man attacks Suzhou nursery, 28 injured





Research labs power China's next boom




Survey aims to discover, curb AIDS spread




Record high turnout in HK LegCo election




WHO warns of global outbreak of bird flu