Disney's Eisner to step down in Sept 2006
(Agencies)
Updated: 2004-09-12 09:25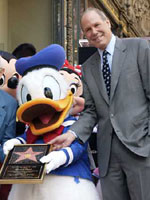 Eisner poses with Disney character Donald Duck during a Hollywood Walk of Fame unveiling ceremony in Los Angeles, California August 9. [Reuters/File]

Walt Disney Chief Executive Michael Eisner on Friday said he will step down from the media conglomerate in 2006, aiming to end his two-decade reign on his own terms after a shareholder revolt nearly cut it short earlier this year.

Eisner informed the board of his decision in a letter made public on Friday, which signaled the end of tenure of one of Hollywood's most powerful and well-paid moguls.

Eisner, now 62, was a young and relatively unknown executive when he took over the faded Hollywood icon and theme park company, revitalizing it and vastly expanding its depth and scope of activity.

But he has also been the target of intense criticism in recent months, warding off a takeover bid from cable operator Comcast Corp. and defending his stewardship against former allies Stanley Gold and Roy Disney, who helped recruit Eisner and now want to kick him out.

Eisner did not comment on whether he would keep his board seat or attempt to take the chairman job when he retired as chief executive. Gold and Roy Disney, the nephew of founder Walt Disney, have said previously that they will probably launch a fight to put supporters on the board. Analysts said Eisner's decision diffused any internal or external efforts to displace him earlier.

Gold and Disney were not available to comment on Friday.

Activist shareholder Calpers, the largest U.S. fund, welcomed Eisner's decision but questioned his plan to stay for two more years and said he should leave the board.

"His continued presence on the board would prevent the company from the clean break that is needed to restore investor confidence," Sean Harrigan, president of the California Public Employees' Retirement System, said in a statement.

The Disney board responded to a revolt at the March annual meeting by stripping Eisner of his role as chairman. Disney is also forecasting improving profits through 2007 and Eisner and executives have repaired relations with some unhappy shareholders.

Analyst Tom Wolzien of Sanford Bernstein said a careful and broad search for a new chief executive would be key for institutional shareholders.

On Eisner's watch, the company aggressively moved into television by buying the ABC television network and the sports cable juggernaut ESPN.

But regard for Eisner has slipped somewhat in recent years, as the company overpaid for the ABC Family cable network and expanded its parks just as the travel downturn began.

Disney forecasts profit from continuing operations will rise by more than 50 percent this year, and continue to rise next year by double digits. But the sale of the money-losing Disney Stores likely will crimp net profit this year.




| | |
| --- | --- |
| | |
| HK film "A1" premiers in Beijing | |

| | |
| --- | --- |
| | |
| Diving prince Tian Liang jumps for the mic | |

| | |
| --- | --- |
| | |
| Guests arrive for Brunei crown prince's wedding | |
Today's Top News
Top Life News

Agricultural trade deficit implies food crisis?




Foreign energy giants bid for nuke contracts




Firms fail to cash in on Olympic golds




HK holds election for LegCo




Explosions rock Baghdad near US offices




With 56 dead, Ivan intensifies off Jamaica