Agri-trade deficit implies food crisis?
(China Business Weekly)
Updated: 2004-09-12 08:01
Growth in food imports is a long-term trend in China as the nation further integrates itself into global trade and becomes wealthier, Chinese economists said.
But China is not a hungry nation facing a food crisis, they added.
China logged an agricultural trade deficit in the year's first seven months, importing US$4.49 billion more than it exported, indicate the latest statistics from the Ministry of Agriculture (MOA).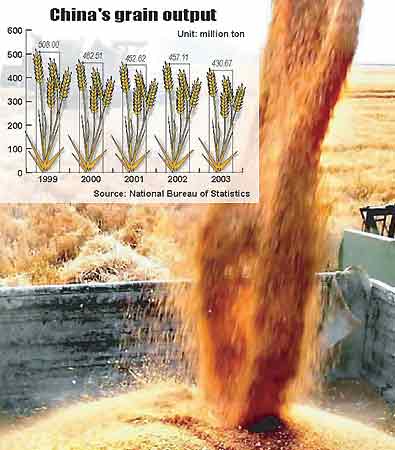 China's grain output by the National Bureau of Statistics.

The nation saw an annual average agricultural trade surplus of US$4.3 billion between 1995 and 2003.

"It is too early to conclude whether the agricultural trade deficit will run for the whole year or the coming years," Xu Hongyuan, director of the agricultural trade sector under the MOA's International Co-operation Department, told China Business Weekly.

"But given China's World Trade Organization (WTO) accession, it is a general trend that we will meet our own food demands by making good use of international markets," Xu said.

The entry, since December 2001, has rendered the country more general trading opportunities in the international market while giving foreign agricultural brokers more chances to enter China, experts say.

"The deficit is not surprising. The impact of the entry began to surface this year given an understandable time lag caused by the implementation of WTO rules," said Li Weimin, a senior research fellow with the Institute of Agricultural Economics under the Chinese Academy of Agricultural Sciences.

"China may not be able to sustain a long-standing agricultural trade surplus as it always did before its WTO accession," Li said.

China's average tariffs for agricultural products decreased from 21.2 per cent before WTO accession to 16.8 per cent by the end of last year. It will be further lowered as the country opens the sector wider.

The nation's agricultural trade surplus last year dropped to US$2.5 billion from US$5.7 in 2002, a decrease of 56.2 per cent, setting the stage for the present deficit.

Li said the agricultural trade deficit in the year's first seven months is also due to an animal products trade deficit in this period.

"China's animal products have been long regarded as advantageous in terms of export," Li said.

China exported US$1.67 billion worth of animal products and imported US$2.40 billion, creating a deficit of US$730 million, the MOA statistics indicated.

"The bird flu epidemic that occurred earlier this year and the ever-growing technical barriers imposed on Chinese agricultural products have set back Chinese exports," Li said.

Compared with the first half of last year, China imported 1.8 times as much grain, or 4.115 million tons, in the year's first half.

In particular, the nation imported 2.727 million tons of wheat by the end of June. Back in the first half of last year, China was a net exporter of wheat.

"It is a rational choice for China to import more land-intensive agricultural products, such as high quality wheat, in which China is not competitive, by using its rich foreign exchange reserve," Li said.

Given China's low per capita farmland and water resources, it is even "economical for China to import such products at favourable prices," Li said.

"But the key for China is to have diverse source of imports and to forge long-term contracts with these grain producing countries, rather than just relying on one or two countries," Li added.

China's foreign exchange reserves surged 40 per cent year-on-year to reach US$403.3 billion at the end of last year, indicate State Administration of Foreign Exchange statistics.

The nation imported most agricultural products from North America in the year's first half. The United States alone exported US$4.96 billion worth of farm produce to China, a year-on-year jump of 68.1 per cent, indicate customs statistics.

China's comparative advantage lies in labor-intensive products, such as poultry, pork, fruit and vegetables. These industries are cost-competitive in the international market.

But land-intensive grain production is less economically attractive and faces growing water supply constraints, particularly in the vast irrigated cropping areas of North China.

Food crisis?

The Financial Times recently reported on fears of a "food crisis" in China following a near doubling of grain imports in the year's first half.

But academics hold different views.

"China never relies on grain imports for its food security. Grain imports will represent no more than 5 per cent of China's annual grain consumption," said Huang Jikun, director of the Centre for Chinese Agricultural Policy under the Chinese Academy of Sciences.

Li agreed, saying the growth in imports in the year's first half is "no cause for concern from a food security perspective.?

"China has been virtually self-sufficient in grain for many years. Even if its grain imports this year reached 8.2 million tons, more than three times last year's grain imports, they would represent less than 2 per cent of China's annual grain consumption and production," Li said.

Analysts estimated China's annual grain consumption this year will reach 487 million tons.

The MOA has vowed to guarantee an annual grain output of 455 millions tons this year, bringing an end to the production slump that started in 2000.

China is expected to fill the gap through imports and grain reserves, experts said.

"The Chinese Government's recent down-to-earth policies to stimulate farmers' enthusiasm for grain production will increase China's annual grain output and minimize the possibility of a sudden surge of imports in the coming years," Huang said.

At the beginning of this year, the Central Committee of the Communist Party of China and the State Council issued the so-called "No 1 Circular", which contained a basket of new policies aiming to raise farmers' incomes to help spur rural growth.

Major policies include lowering and eventually abolishing agricultural tax, directly subsidizing grain producers, and setting minimum purchasing prices for staple grain products.

China witnessed a good summer wheat harvest this year with a production volume of 101.05 million tons, a year-on-year increase of 4.8 per cent. That has put an end to a four-year summer wheat slump.

The rice yield is also expected to rise as the area planted has been expanded by 533,000 hectares this year compared with 2003, MOA officials said.

The Financial Times report said China's grain reserves are under pressure this year and possibly in 2005 given the nation's straining supply-demand relations.

The level of China's national grain reserves is a State secret.

"The size of the reserves should not be a problem, since the Chinese Government has paid lots of attention to build the nation's grain stocks since the founding of the People's Republic of China," said Wu Zhihua, director of the Institute of Food Economics under the Nanjing University of Finance and Economics.

"But the government should improve the management of food reserves. Grain should not only be stored in granaries but in enterprises," Wu said.

The Shanghai municipal government is drawing up such plans. The city plans to allow grain enterprises from Heilongjiang and Jilin provinces, which are China's major grain producing areas, to set up firms combining grain storage, processing and selling in the eastern city. Shanghai's major grain processing enterprises are also expected to shoulder part of the city's grain reserves, the report said.




Today's Top News
Top China News

Vice premier predicts growth over 7% by 2020




Agri-trade deficit implies food crisis?




Foreign energy giants bid for nuke contracts




Firms fail to cash in on Olympic golds




HK holds election for LegCo




Explosions rock Baghdad near US offices