New York marking 3rd anniversary of 9/11
(Agencies)
Updated: 2004-09-11 13:44
Last year, children's voices echoed across ground zero. This year, it is the bereaved parents and grandparents of World Trade Center victims who will read aloud the names of those lost on Sept. 11, 2001.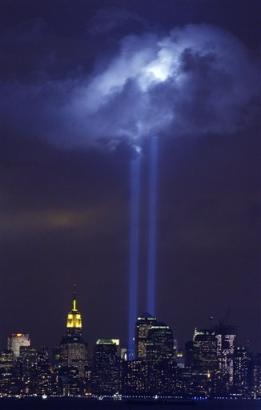 A test of the Tribute in Light memorial illuminates a passing cloud above lower Manhattan Thursday, Sept. 9, 2004, in New York The twin beams of light will be turned on Saturday, Sept. 11, for the third anniversary of the terrorist attacks on the U.S. [AP]

Three years to the minute that terrorists flew the first plane into the twin towers, a moment of silence will be held at 8:46 a.m. Saturday to begin the ceremony at ground zero. Then, in what has become an anniversary tradition, the names of the 2,749 trade center victims will be recited, with pauses for three more moments of silence — at 9:03, 9:59 and 10:29 a.m. — to mark when the second plane struck and each tower collapsed. The day of remembrance will end with twin beams of light soaring into the night sky.

At the Pentagon, officials will lay a wreath and observe a moment of silence. And in Pennsylvania, bells will toll across the state at the minute the fourth plane went down.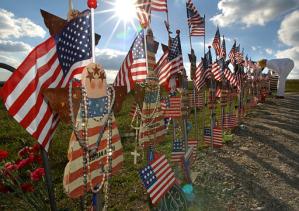 Nancy Ward of San Diego visits the temporary memorial to passengers of United Flight 93 in Shanksville, Pa., Friday, Sept. 10, 2004. [AP]

Nationwide, communities will observe Sept. 11 in their own ways, with services at firehouses, memorial dedications, the tolling of bells, and flag ceremonies. In Springfield, Mo., a garden will be dedicated to 9/11 victims, and in New Mexico, residents plan to gather at an Albuquerque church where two trade center beams are on display.

After last year's heartbreaking reading by children who lost loved ones, this year's list of the dead will be read at ground zero by parents and grandparents of victims. Some will also read poems or passages. Mayor Michael Bloomberg, his predecessor Rudolph Giuliani, New York Gov. George Pataki and New Jersey Gov. Jim McGreevey are also scheduled to participate.

Nancy Brandemarti, who has never attended the ground zero remembrance, will read a poem for her son, Nicky Brandemarti, a financial analyst who worked in the south tower. He would have turned 25 this month.

"I'm asking my son and God for the strength to be able to do this," Brandemarti said. "I'll be reading the poem to him. It expresses how much we miss him and how we feel."

Bloomberg said parents and grandparents were asked to lead the ceremony because the city wants to "acknowledge their great sacrifice and thank them for helping all of us to shoulder the loss."

During the ceremony, which will last more than two hours, families will be able to walk down the ramp to the footprints of the towers. The area, seven stories below street level, is considered sacred ground by many. It was there that rescue workers combed the debris with rakes, painstakingly searching for the tiniest fragments of human remains.

Three years later, work is still going on to identify the 20,000 pieces of human remains that were recovered. The medical examiner's office has identified about 1,570 people, or just 60 percent of the dead. They do not expect to match the remains of every victim because some parts were too badly damaged to yield readable DNA, and some people were essentially vaporized in the fiery collapse.

A new skyscraper is rising from the World Trade Center site, the 1,776-foot Freedom Tower. The cornerstone was laid on the Fourth of July, and the tower is expected to be completed by 2009.




Today's Top News
Top World News

Commentary: US-Taiwan military moves lead nowhere




Teachers honoured for noble contribution




New York marking 3rd anniversary of 9/11




How to award an Olympic champion




China's imports to hit US$1 trillion by 2010




200 pupils poisoned by school dinner