Teachers can earn big bucks
(Xinhua)
Updated: 2004-09-11 09:44
People were amazed to learn that teachers, once paid less than factory workers, now earn better salaries and bonuses than many white-collar workers, according to the Beijing Youth Daily.
Yesterday was the 20th annual Teachers Day across the country.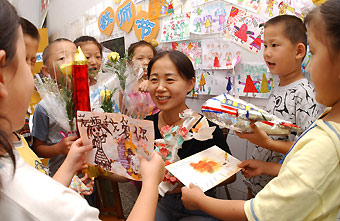 Children at the No.1 Kindergarten of Zhongyuan Oilfield in Puyang, Central China's Henan Province, offer hand-made gifts to their teacher Li Shu on Friday -- the 20th National Teachers' Day, expressing thanks for Li's care. [newsphoto]

In the past few years, most wage-earners saw a moderate income increase while salaries doubled or tripled for a large number of teachers and professors, according to individual income tax statistics provided by relevant departments.

In the first six months this year, teachers at 53 colleges and universities in Haidian District, Beijing, paid a total of 115.65 million yuan (US$13.9 million) in income tax, a 69 percent jump, official figures revealed.

The individual income tax volume paid by some Beijing-based colleges and universities rocketed 160 percent during the past six months, said an official with the Haidian tax department. He said it was an indication of the growing importance the central government attaches to education.

Relevant figures from the Ministry of Education show that during the past two decades, annual salaries for college lecturers and professors soared 18.8 fold. Teachers in middle and primary schools saw an 11.9 fold increase.

At the start of reforms about 25 years ago, the average salary of teachers was at the bottom of the country's wage scale.

"I still remember very well the days of the early 1980s when college professors were paid less than a grandma selling ice cream on the street," said professor Ao Fan with the Sichuan University Foreign Language Department.

But now in Beijing even high school teachers, if willing to give additional tutorial courses to students on weekends or holidays, can earn 10,000 yuan per month. That's four times more than ordinary government employees earn in Beijing and more than some company white-collar workers.

"Teaching is becoming an increasingly attractive profession as its social status improves and salaries grow," said a source with the Ministry of Education.

Statistics showed that in 2003, the average annual salary of teachers working in colleges and universities reached 23,300 yuan, up 2,261 yuan from 2002 and 22,100 yuan more than 1985. Teachers working in middle schools or primary schools earned 13,300 yuan per month on average, up 652 yuan from the previous year and 12,200 yuan more than 1985.

There were about 12.5 million teachers in the country at the end of last year, an increase of 3.25 million, or 35.2 percent, since 1985, according to government statistics released yesterday.

In 2003, the number of full-time teachers in institutions of higher learning reached about 814,000, up 15 percent from a year earlier. Of those, 89,000 were working in colleges and universities targeting adult students, an official with the Ministry of Education said.

The number of full-time teachers for senior high schools amounted to 1.07 million in 2003, an increase of 125,000 from 2002. Full-time teachers for vocational schools and secondary technical schools dropped however, down 9,000 and 8,000 respectively.

In junior high schools, the number of full-time teachers rose to 3.47 million, an increase of 36,000 from 2002.




Today's Top News
Top China News

200 pupils poisoned by school dinner




Agricultural tax to be phased out in 5 yrs




China's imports to hit US$1 trillion by 2010




SOEs, chiefs face audit under new rule




Steady growth won on industrial front




How to award an Olympic champion