Cotton on consumers
(China Daily)
Updated: 2004-09-11 08:45
What mostly affects the Chinese shoppers' decision when buying clothes - price, style or fiber?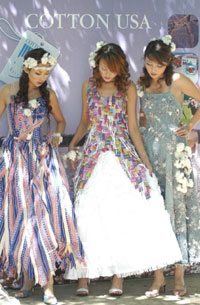 Models display cotton dress made by Pacino Wan on a catwalk show held by the Cotton Council International last week in Beijing. [China Daily/file photo]

The 2004 Global Lifestyle Monitor survey, conducted by Cotton Incorporated and Cotton Council International, reveals about 68.7 per cent of consumers surveyed in five Chinese cities say the material used is the deciding factor.

Shoppers in Beijing, Shanghai, Guangzhuo and Shenzhen are the least interested in price - just 10 per cent - claims the survey. The vast majority prefer to pay more for better quality clothing.

In contrast, 47 per cent of Japanese consumers surveyed said they would sacrifice quality for a better price.

In China, most shoppers - 70 per cent - agreed: "It's important that my clothes are made from natural fiber such as wool and cotton."

Questions asked

The result from the Global Lifestyle Monitor came from interviews with 500 individuals in each of the following nine markets: Japan, Germany, Italy, Great Britain, Brazil, Columbia and India. In China, studies were also taken in Hong Kong. Men and women between the ages of 15 and 54 that purchase most of their own clothes were the study's subjects.

It is the first time such a survey has been conducted on the Chinese mainland. The Cotton Council International released results last week in Beijing, with a catwalk show featuring cotton-made dresses designed by Hong Kong designer Pacino Wan.

In the past few years, fiber content has become a key factor in the consumers' choice of clothing worldwide.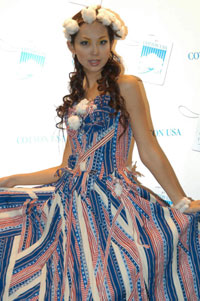 A modle display her colorful cotton dress. [china Daily/file photo]

The 2004 survey indicated an overwhelming preference of cotton among global consumers.

About 60 per cent in all markets said they prefer clothing made of cotton. Two-thirds also said they prefer to know the fiber content of garments before purchasing them. And 64 per cent said they avoid synthetics, an increase of 6 per cent from 1999.

Chinese shoppers are no different.

A total of 64.9 per cent Chinese agreed with the statement: "It's important that my clothes are made from natural fiber such as cotton."

Shanghai leads the figure with 76.7 per cent, Beijing follows with 64.8 per cent, and Guangzhou and Shenzhen are third and fourth with 64.5 per cent and 52.4 per cent respectively.

Comfort of clothing remains preferable over fashion, according to 89 per cent of the respondents in Beijing, Shanghai, Guangzhou and Shenzhen. In fact, they said comfort is the number one concern when buying clothing.

Cotton is most preferable, because it is comfortable (69 per cent), keeps warm (68 per cent), soft (65 per cent), and breathable (64 per cent).

The latest fashion lines all feature trendy blends of synthetic fabrics which look good. However with all these trendier fabrics taking the spotlight, people do not forget comfort and practicality that traditional textiles offer.

Cotton, for example, is still one of the most comfortable materials on the market.

As China's economy booms, Chinese consumers' choice is expected to exert its influence on the worldwide market.

"That is the reason why the four major cities of Chinese mainland became the target markets in the 2004 Global Lifestyle Monitor," said Jeff Coey, director of China and South Asia division with the Cotton Council International.

In addition to the fiber preferences, the Global Lifestyle Monitor also explores consumers' attitudes, behaviour and trends such as interest in fashion, shopping habits, factors that drive the decision to purchase, casual dress and Denim and other lifestyle issues.

The result reveals that 58 per cent of Chinese consumers (41 per cent males and 59 per cent females) love to shop, 27 per cent higher than the average figure from the other eight markets.

However, they do not shop as frequently as those in the developed European countries such as the UK and Italy. Only 2 per cent of Chinese mainland consumers go shopping once a week or more, and 10 per cent once every 2-3 weeks.

The UK consumers lead the shopping frequency in the survey. Nineteen per cent of the British surveyed go shopping once a week or more and 20 per cent once every 2-3 weeks. And Italian consumers are in the second place in the survey with the two figures 14 per cent and 28 per cent.

Compared to those consumers in Europe as well as in Hong Kong who have established their own tastes and idea for fashion, Chinese mainlanders have less mature ideas about what clothes fit best.

So 43 per cent of them prefer new fashion over classic styles. The figure is only lower than 59 per cent of Indians, but much higher than the UK's 27 per cent, Hong Kong's 21 per cent, Italy's 20 per cent and Germany's 17 per cent.

Moreover, the Chinese mainlanders are easily influenced by in-store displays, window shopping or their friends or colleagues' clothes. About 40 per cent of Chinese consumers, the highest percentage of all the nine markets, like to shop in department stores, which they think carry the widest variety of clothing styles and can usually guarantee the better quality.

However, consumers in the advanced fashion markets such as Italy, Hong Kong and the UK prefer the small independent clothing boutiques or chain/specialty shops. "The reason why the Chinese mainland consumers do not like the small or chain stores could be complicated. But the obvious reason is that there are not so many qualified chain stores or independent stores. Most of small shops sell fake products," said Cheng Hong, a fashion writer for Beijing-based magazine, Fashion.

But Coey is confident consumers here will have more choices in such small boutiques in the near future.

He says he also looks forward to seeing Chinese consumers prefer casual wear over business suits at work.

Casual clothes are the world's number one choice. Consumers from seven markets choose casual wear and Indians select less formal clothes, for work.

However 30 per cent of those surveyed in China, the highest figure of the nine markets, say they prefer business suits in the work place.





| | |
| --- | --- |
| | |
| HK film "A1" premiers in Beijing | |

| | |
| --- | --- |
| | |
| Diving prince Tian Liang jumps for the mic | |

| | |
| --- | --- |
| | |
| Guests arrive for Brunei crown prince's wedding | |
Today's Top News
Top Life News

Teachers honoured for noble contribution




China's imports to hit US$1 trillion by 2010




200 pupils poisoned by school dinner




SOEs, chiefs face audit under new rule




Steady growth won on industrial front




Arts awards join forces