President Hu Jintao and several other central government leaders met with hundreds of teacher representatives Friday in the Great Hall of the People, to celebrate the 20th National Teachers' Day.

They were honoured for their outstanding work as teachers.

Hu said millions of teachers have made great contributions to the country's educational development through their long-standing devotion to work. They have gained common respect from society.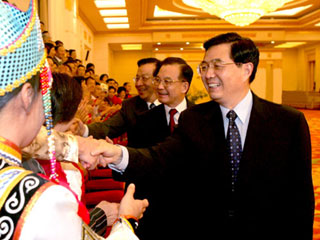 Chinese President Hu Jintao (right) and Premier Wen Jiabao (second from right) meet teachers representatives in the Great Hall of the People on September 10, 2004. [newsphoto]

He said these honoured teachers are good examples for all and he wished them to treasure the honour and contribute more to training talents for the country.
Education plays a primary role to upgrading a nation's comprehensive power, said the President.
"We must further put education on a prior and strategic position, to sustain the nurture of powerful talent team for constructing a wealthy and comfortable society," he said.
He stressed that teachers and educators should always bear in mind to take the jobs as their own responsibilities, and upgrade teaching competence by continuous studies and improving morality.
Hu called on governments at all levels to focus more on teachers.
Friday morning, Hu visited Beijing Hongzhi Middle School which recruits students in financial need.
Nearly 700 students attend the school which was subsidized by Beijing municipal and the Dongcheng District governments.
Students here are exempted from tuition and expenses for textbooks and accommodations.
Hu chatted with students and teachers and was pleased that students feel at ease studying with government support.
He encouraged financially-burdened students to study hard to gain great achievements.
The President called on relevant departments to regard the work of assisting poor students study as an important job.
He then visited three retired middle school teachers at their family homes.
State Councillor Chen Zhili said more efforts are needed to further upgrade the quality of teachers, especially teachers in rural areas, as the modern construction has posed a higher demand for teaching teams.
Sources from the Ministry of Education said by 2007, the 12.5 million teachers across the country will all receive part-time training of at least 240 hours.
To further ensure the safety of children in kindergartens and avoid the two recent accidents in kindergartens of Beijing and Henan Province, the ministry has reiterated that kindergarten teachers must highly regard children's safety.
Those who sponsor substandard kindergartens -- safety, hygiene and other conditions which fail State relevant standards -- will be punished.
China began to establish the National Teachers' Day in 1984 to help lift social status of teachers, who had been degraded during the "Cultural Revolution" (1966-76).