JI 'claims Jakarta car bombing'
(Agencies)
Updated: 2004-09-10 10:06
A terror group linked to al Qaeda has purportedly taken responsibility for Thursday's car bombing in Jakarta which killed at least nine people and injured more than 180.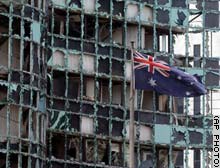 An Australian flag flies near the embassy in Jakarta.

An Islamic Web site, www.islamic-minbar.com, has posted a statement attributed to Jemaah Islamiya, the Southeast Asian arm of al Qaeda, claiming the attack as a suicide operation against Australian interests.

The blast occurred in central Jakarta just meters outside the heavily fortified gates of the Australian embassy.

"We decided to settle accounts with Australia, one of the worst enemies of God and Islam ... and a mujahedeen brother succeeded in carrying out a martyr operation with a car bomb against the Australian embassy", the statement says, according to wire service reports.

Although the claim has not yet been verified, the Internet site is known for carrying extremist Islamic content.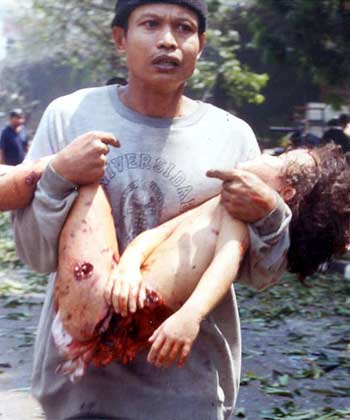 A man carries the body of a child after a bomb blast outside the Australian Embassy in Jakarta killed up to 11 people and injured about 161 on September 9, 2004. [Reuters]

"We advise all Australians in Indonesia to leave, or we will make it a grave for them, God willing," the statement added, while advising the Australian government to pull out of Iraq.

The statement said the Australian government has ignored previous warnings and taken part "in the war against our brothers in Iraq and supported the invading forces."

"In the case of (the government) not complying with our demands, we will direct numerous painful blows, God willing, against them and the queue of car bombs will not stop.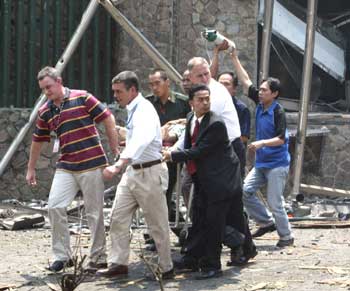 An injured person is evacuated from the Australian embassy in Jakarta after a bomb blast in Jakarta on September 9, 2004. An explosion rocked central Jakarta on Thursday. [Reuters]

"It is the first of a series of attacks. ... We advise Australians in Indonesia to leave this country or else we will transform it into a cemetery for them," the statement said.

The text is signed "Jemaah Islamiyah in eastern Asia -- department of information -- Indonesia.

Australian Prime Minister John Howard on Friday downplayed the link between Australia's close political and military alliance with the United States and this latest terrorist attack.

"Think what you may about our involvement in Iraq, but the day Australia allows decisions like that to be governed by the threats of terrorism is the day Australia loses control over its future," Howard told Australian radio.

"Australia has been a terrorist target for some years. (The Bali bombing) occurred before Australia's involvement in Iraq."

Authorities said 182 people were injured in the blast, 20 of them critically, including a five-year old Australian girl whose Indonesian mother was killed in the explosion.

Hospital officials said the death toll was expected to rise.

Australia's Foreign Minister Alexander Downer, who flew to Indonesia soon after the attack, told reporters he believed Jemaah Islamiya was responsible.

Police were working to reconstruct the car they believe carried the bomb. It was not clear if a suicide bomber was involved.

Traces of TNT and sulphate were discovered in the wreckage, according to top Cabinet officials and the national police chief.

Those were two of the ingredients used in the August 5, 2003, Marriott Hotel bombing in Jakarta that killed at least 12 people and in the October 12, 2002, Bali nightclub bombings that killed more than 200 people, most of them tourists, including 88 Australians.

Authorities also blamed those attacks on Jemaah Islamiya. Police were searching for a group member also believed to be involved in those attacks.

Indonesian President Megawati Sukarnoputri returned to Jakarta Thursday from Brunei, where she was attending a royal wedding, and toured the bomb site.

In the United States, a White House statement said President George W. Bush conveyed "his deepest sympathy on behalf of the American people to the families and victims of the terrorist bombing."

"This is yet another attack against civilized people everywhere. We condemn this outrageous act. The president reaffirms our solidarity with the governments of Indonesia and Australia in fighting the global war against terrorism," the statement said.

A witness inside the Australian Embassy told CNN that body parts were strewn around the area after the vehicle detonated.

Australian Prime Minister John Howard said the car bomb detonated four meters (13 feet) from the embassy's gate, leaving a crater three meters deep.

He said all of the embassy's Australian staff had been accounted for, although some sustained minor injuries.

Downer said one reason for the few casualties inside the embassy was the blast coating on the windows.

The impact of the explosion shattered nearly all the windows in seven surrounding buildings, including several structures more than 10 stories tall, but the windows of the embassy remained intact.

Video of the site showed rescue workers carrying an injured man on a stretcher to a nearby ambulance. Three other men wearing what appeared to be guard uniforms lay on the ground with bloodied faces but were alive.

One body lay slumped over a motorcycle. Police cordoned off the area as a bomb squad searched for more explosive devices. A burned-out vehicle sat in front of the area, and other vehicles sustained damage.

Three inert bodies, including a near naked girl and several wounded security guards, could be seen in the rubble.

Downer told reporters Thursday before he left Australia that there were some hints that trouble was brewing.

"We had some advice a few days ago of a possible terrorist attack in Jakarta focusing on Western-style hotels, and we changed our travel advisory to take that into account," Downer said.

"But we didn't have any information on a specific attack on the Australian Embassy at this time, though there have been, over a long period of time, concerns that this could happen."

The United States renewed its travel warnings for Indonesia earlier this month.




Today's Top News
Top World News

China's stocks plunge to five-year low




Southwest flood death toll grows to 177




HK condemns `distorted' report




Bin Laden's deputy: US on brink of defeat




JI 'claims Jakarta car bombing'




Shanghai readies for Rockets-Kings game