Shanghai readies for Rockets-Kings game
(Agencies)
Updated: 2004-09-10 09:48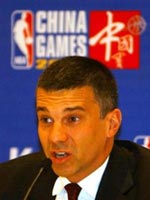 Michael Denzel, Vice President and Managing Director of NBA Asia, speaks during a press conference Thursday Sept. 9, 2004 in Shanghai, China. Chinese player Yao Ming - led Houston Rockets and the Sacramento Kings are scheduled to play a game in Shanghai on Oct. 14, 2004.

Shanghai's rundown city gymnasium is getting the full NBA treatment for next month's exhibition game between the Sacramento Kings and the Houston Rockets.

The Oct. 14 matchup is the first between two NBA teams in China, 25 years after Wes Unseld and the former Washington Bullets visited Shanghai to play the Chinese national team. The Kings and Rockets will meet for a second game in Beijing on Oct. 17.

The games are the NBA's latest attempts to harness basketball's surging popularity in China, boosted by Shanghai native Yao Ming in the Rockets lineup.

Fourteen Chinese broadcasters already show up to six regular-season NBA games a week. Such NBA stars such as Kobe Bryant have visited to promote the league.

The result? While soccer remains widely popular among all sectors of Chinese society, basketball has become the sport of choice among teenage boys and men in their 20s. Some 75 percent of males 15-24 consider themselves NBA fans, according to a 2003 survey.

Along with Yao, four other Chinese are either playing or training with NBA teams. The latest, Shanghai Sharks star Liu Wei, was invited join the Kings for training in July and is expected to appear on the floor in Shanghai and Beijing.

With the relationship growing closer, NBA officials have proposed the possibility of holding regular-season games in China. Next month's preseason games will offer a chance to assess the facilities and reactions among players and fans.

"This is much more than a basketball game. This is a large cultural and athletic exchange," Michael Denzel, the league's managing director for Asia, said Thursday.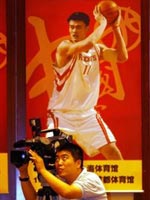 A TV cameraman films participants during a press conference near a poster of Houston Rockets' Yao Ming Thrsday Sept. 9, 2004 in Shanghai, China. Yao Ming-led Rockets and the Sacramento Kings are scheduled to play a game in Shanghai on Oct. 14, 2004.

Major work still needs to be done to the gym — new lights and video boards, called jumbotrons, refurbished dressing rooms and offices, a smoother playing surface and a host of other improvements.

"It's 30 years old, so we had to import a lot of special materials to fix it up. We're making good progress though and should be ready," said Qiu Weichang, deputy head of the city's athletic commission.

Tickets pose another challenge. The gymnasium seats about 10,000, but with only about 3,000 tickets available for fans to buy, a major crush is expected when they go on sale Sunday.

Because counterfeit tickets are common in China, the actual tickets are being printed in the United States, with fans given a reservation voucher to cash in later. Prices run from US$12 to US$240.




Today's Top News
Top Sports News

China's stocks plunge to five-year low




Southwest flood death toll grows to 177




China registers a 15.9% industrial growth




HK condemns Human Rights Watch's report




Bin Laden's deputy: US on brink of defeat




Shanghai readies for Rockets-Kings game