Taboos smashed on China's sex education
(Xinhua)
Updated: 2004-09-10 08:52
China is working to break taboos on sex education for teenagers.
"Sexual and reproduction health of teenagers" was set as one of major topics at the International Forum on Population and Development that opened Tuesday in Wuhan, central China's Hubei Province.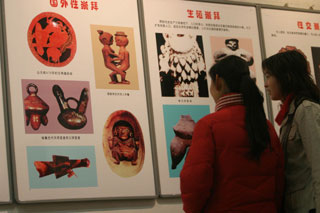 Some two female middle school students look at a board showing sex-related antiques at a March Sex Knowledge Exhibition in Xi'an, northwest China's Shaanxi Province. [newsphoto/file photo]

Experts from different countries expressed their opinions and experience in sex education. At the exhibition area, visitors can easily find well-printed books, magazines and interesting videos involving sexual and reproduction knowledge.

This conference represents a big change in attitude in a country where, just a few years ago, sex-related contents were often forbidden in public.

Traditionally in Chinese culture, speaking about sex was a private matter for only close friends - not for public discussion.

Unfortunately, this conservative attitude led to inadequate sexual education for children. Most Chinese students about sex from their friends, forbidden books and magazines and, more recently, the Internet, statistics show.

According to Population and Development Country Report published Tuesday, during the past decade, the overall health of about 323 million Chinese young people aged 10 to 24 has been improving steadily. However, they have experienced an earlier age of sexual and psychological maturity.

Young people's sexual ethics are changing. Premarital pregnancies and induced abortions among the young have continued to increase, said the report.

More and more experts worried about the lack of sex education for teenagers, which has caused many negative results such as psychological problems. They continuously call for teaching reforms to give teenagers proper facts about sex.

Chinese government agrees and is taking measures to change the situation.

In this April, a public consultant station on sexual diseases and AIDS prevention was established in Lanzhou, capital of northwest China's Gansu Province. A sex-related book written by a middle school student was printed as a textbook in southwest China 's Sichuan Province. The province also invited some sexual experts to provide proper sexual education for students in different grades.

A book named "Thoughts for Teenagers" was introduced as the textbook this year in high schools in Ningbo of eastern China's Zhejiang province. Students' opinions and requests were fully considered during the editing process of the book dealing with issues like masturbation, homosexuality and contraception.

The sex education for teenagers is a complicated task. It integrates sexual morality, psychology, ethics and law.

"The major purpose of the sex education for teenagers is to let them have a correct and comprehensive understanding in sex, which will help them properly control their sexual behaviors," said Professor Peng Xiaohui with Huazhong University of Science and Technology, also famous Chinese sexologist.

In order to improve China's poor sex education, Peng said, governments should pay much attention to two things: training more sex education teachers in primary and middle schools while cultivating more professionals through opening sexology majors in some universities.




| | |
| --- | --- |
| | |
| Diving prince Tian Liang jumps for the mic | |

| | |
| --- | --- |
| | |
| Guests arrive for Brunei crown prince's wedding | |

| | |
| --- | --- |
| | |
| Kidman stirs up controversy at Venice with 'Birth' | |
Today's Top News
Top Life News

China's stocks plunge to five-year low




Southwest flood death toll grows to 177




HK condemns `distorted' report




Bin Laden's deputy: US on brink of defeat




JI 'claims Jakarta car bombing'




Shanghai readies for Rockets-Kings game