Southwest flood death toll grows to 177
(China Daily)
Updated: 2004-09-09 23:39
Floods in Southwest China began to recede as torrential rains eased, leaving at least 177 people dead and more than 60 missing, civil affairs officials confirmed Thursday.
The Sichuan provincial disaster relief office confirmed 102 people dead and 35 missing.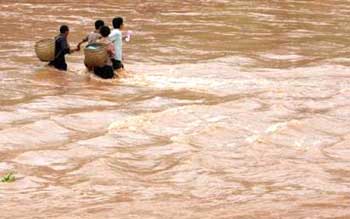 Local residents hold on to each other as they cross a swollen river in Kaixian, Chongqing, September 7, 2004. The death toll rose to 107 with another 88 missing in southwest China on Tuesday following a series of floods and mudslides. [Reuters]

In Chongqing Municipality, the disaster relief office confirmed the death toll jumped to 75, 25 missing and 2,513 injured.

Most of the deaths were caused by landslides, mud-and-rock flow and flash floods sweeping through mountain valleys.

The violent downpour in the past several days has affected 11.3 million local residents and flooded 412,000 hectares of crops. The direct economic losses are estimated to exceed 3.9 billion yuan (US$470 million), official statistics show.

Residents in Chongqing have begun returning to normal life on Wednesday as flood waters continue to recede, reports West China Metropolis News.

However, according to local meteorological administration, moderate rain is expected to continue in most areas of Chongqing and some areas may see torrential rains.

"We must not be off guard," said Wang Hongju, mayor of Chongqing.

Local residents in Sichuan are busy cleaning their homes and trash left in the streets. Some stores and free markets of agricultural products also opened, local media reported.

Publicity vehicles circulated through the county, notifying residents to pay attention to safe usage of home appliances.

Local insurance companies have started to compensate losses of the insured.

The central government has allocated 40 million yuan (US$4.8 million) for emergency funds to Chongqing and Sichuan.

Chongqing municipal government also raised 12 million yuan (US$1.45 million) for sheltering local residents and restoring transportation and telecommunication facilities. Sichuan government has earmarked 10 million yuan (US$1.2 million) to help victims.

Flooding in the Southwest, the upper reaches of Yangtze River, also placed the country's second largest freshwater lake -- Dongting Lake -- on flood alert on Wednesday as the year's biggest Yangtze River flood peak is expected to surpass the lake's water level by nearly 2 metres.

The cities of Changde, Yiyang and Yueyang in Central China's Hunan Province have been warned for flooding and to safeguard embankments, after days of torrential rain in southwestern Sichuan and Guizhou provinces and Chongqing have caused the upper reaches of the Yangtze to swell.




Today's Top News
Top China News

China's stocks plunge to five-year low




Southwest flood death toll grows to 177




China registers a 15.9% industrial growth




HK condemns Human Rights Watch's report




Bin Laden's deputy: US on brink of defeat




Shanghai readies for Rockets-Kings game