Floodcrest passes Three Gorges safely
(Agencies)
Updated: 2004-09-09 17:15
A massive floodcrest passed safely through the Three Gorges Dam on China's Yangtze River on Thursday as devastated communities upstream cleaned up from floods that killed at least 177 people and injured thousands.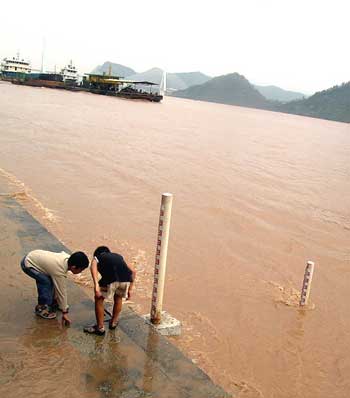 Two kids play on the Yangtze bank in Yichang, Hubei Province September 8, 2004 as the flood crest moved downstream from the upper reaches in Sichuan to the city. Water level has risen to a danger mark in the river section and the city has made necessary preparations. Authorities have suspended navigation in the Yangtze river for safety concerns. [newsphoto]
Xinhua news agency said the floods was the worst in a century and central Hubei and Hunan provinces downstream on the Yangtze are bracing for the torrent of muddy water heading towards them.
An official with the Three Gorges Dam said water levels remained high and navigation on the reservoir was still suspended.
"The peak passed early in the morning. Today the water flow is still high but not at its highest," the official said. The locks would reopen and navigation could resume in two to three days, he said.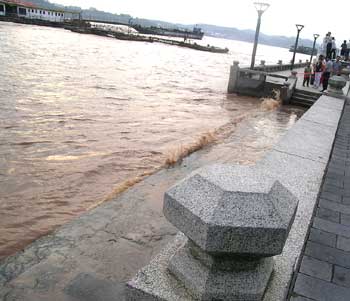 Water level near the Binjiang Park in Yichang, Hubei Province, has risen to a danger mark and is still rising. The city has made preparations to cope with any flooding threat. [newsphoto]
The world's largest hydroelectric project, built to tame the flood-prone Yangtze, now faces a test as residents downstream await the crest.
So far, no major damage has been reported in Hubei or Hunan, although communities near Dongting, the country's second-largest freshwater lake and a spillover for the Yangtze, were placed on alert.
With the rains passed, relief work in flood-damaged regions of southwestern Sichuan and Chongqing turned to cleaning up the mess and preventing epidemics.
Sichuan disaster officials reported the toll had reached 102 dead and 25 missing. In neighbouring Chongqing, the death toll had risen to 75 and 25 were missing.
Most of the deaths were caused by mudslides and flash floods sweeping through mountain valleys after five days of heavy rains beginning last Thursday.
Front-end loaders scraped reddish mud from city streets. Other workers sprayed disinfectant. Peasants removed rocks from beside one home that narrowly escaped a landslide.
Another home sat stranded in a sea of mud, while a third, nearly submerged, was toppled by a ruddy torrent of water, state television showed.
"We'd be in a terrible state if we were still in our home," said one Sichuan man, smiling from a hotel bed paid for by provincial relief officials.
Others huddled in blue tents filled with cots.
The floodwaters destroyed more than 400,000 hectares (one million acres) of cropland and caused damage estimated at more than 3.9 billion yuan (US$471 million).
Vice Premier Zeng Peiyan had toured flood-hit areas of Sichuan and urged officials to step up the relief and reconstruction effort for the 11.6 million people affected.

Today's Top News
Top China News

China tackles swollen auto production capacity




SW China floods have killed at least 177




Wu Yi: China to go further than WTO promises




Elders' problems centrestage at forum




Further opening in banking sector pledged




Russia vows to attack 'terror' worldwide