Memos show Bush suspended from flying
(Agencies)
Updated: 2004-09-09 15:09
The White House released memos Wednesday night saying that George W. Bush was suspended from flying fighter jets for failing to meet standards of the Texas Air National Guard.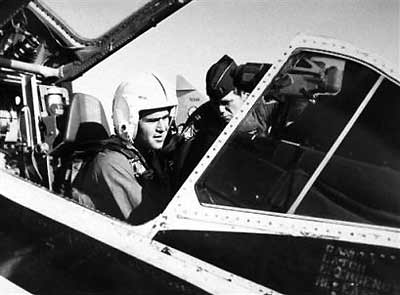 George W. Bush sits in an F102 fighter jet while serving in the Texas Air National Guard in this undated photo. US President Bush was in the National Guard from 1968-1973. Former Texas House Speaker Ben Barnes, a Democrat who was among the most powerful politicans in Texas in the 1960s and 1970s, said at a May campaign rally for Democratic presidential hopeful John Kerry that he was 'ashamed' for helping Bush and sons of other wealthy Texans avoid service in Vietnam. Barnes plans to talk more extensively about his role Wednesday in an interview on '60 Minutes.' [AP/file]
The Vietnam-era memos add new dimensions to the bare-bones explanation of Bush's aides over the years that he was suspended simply because he decided to skip his annual physical exam. The exam was scheduled during a year in which Bush left Texas, where he had been flying fighter jets, to work on a U.S. Senate campaign in Alabama.
White House communications director Dan Bartlett told CBS' "60 Minutes II," which first obtained the memos, that Bush's superiors granted permission to train in Alabama in a non-flying status and that "many of the documents you have here affirm just that."
"On this date I ordered that 1st Lt. Bush be suspended from flight status due to failure to perform to USAF/TexANG standards and failure to meet annual physical examination ... as ordered," states an Aug. 1, 1972, memo by Lt. Col. Jerry Killian.
In a memo a year later that uses only last names, Killian points to turmoil among Bush's superiors over how to evaluate his performance because there was no "feedback" from Guard officials in Alabama in 1972 and 1973 where Bush had been largely inactive.
"Staudt has obviously pressured Hodges more about Bush," Killian wrote on Aug. 18, 1973. "I'm having trouble running interference and doing my job — Harris gave me a message today from Grp (Bush's unit) regarding Bush's OETR (officer evaluation) and Staudt is pushing to sugar coat it. Bush wasn't here during rating period and I don't have any feedback from 187th in Alabama. I will not rate."
The memo concludes: "Harris took the call from Grp today. I'll backdate but won't rate. Harris agrees."
Walter B. Staudt was commander of the Texas National Guard and Lt. Col. Bobby Hodges was one of Bush's superiors who two years earlier had rated Bush an outstanding young pilot and officer and a credit to his unit. Lt. Col. William D. Harris Jr. was another superior of Bush's.
A third Killian memo makes clear that Killian was concerned from the outset over Bush's plan to go to Alabama because the military had spent a substantial sum of money turning Bush into a pilot and that his National Guard duties might suffer if he went elsewhere.
"Phone call from Bush," Killian wrote in a May 19, 1972, memo. "Discussed options of how Bush can get out of coming to drill from now through November. ... Says that he is working on another campaign for his dad. ... We talked about him getting his flight physical situation fixed ... Says he will do that in Alabama if he stays in a flight status."
The memo added that Bush "has this campaign to do and other things that will follow and may not have the time. I advised him of our investment in him and his commitment."
The White House told CBS that Bush "met his drills then when he came back" from Alabama "and that's why he received an honorable discharge."
With national security and the war on terrorism looming large on voters' minds, supporters of Bush and Democratic nominee John Kerry are attacking each candidate's Vietnam War records. Republicans have accused Kerry, a decorated Vietnam combat veteran, of fabricating the events which led to his five medals. Democrats point to gaps in Bush's stateside Air National Guard service in 1972 and 1973 to say Bush shirked his duty.
Asked about Killian's memo which gives two reasons for Bush's suspension, Bartlett told CBS, "That might be official language." Bartlett said "the records have been clear for years that President Bush did not take a physical because he did not need to take a physical because, obviously, the choice was that he was going to be performing in a different capacity."
Asked about Killian's statement in a memo about the military's investment in Bush, Bartlett told CBS: "For anybody to try to interpret or presume they know what somebody who is now dead was thinking in any of these memos, I think is very difficult to do."
On Tuesday, the Defense Department released more than two dozen pages of records about Bush and his former Texas unit. They showed Bush flew for 336 hours in military jets after his flight training and ranked in the middle of his class.
Pentagon officials said they discovered the documents released Tuesday while performing a more comprehensive search "out of an abundance of caution" in response to a Freedom of Information Act lawsuit by The Associated Press.
The newly released records also showed that while Bush says he was in Alabama training with another Guard unit in 1972, his home unit in Texas was participating in the air defense of the southern United States by keeping two jet fighters constantly ready for launch within five minutes' notice.
Today's Top News
Top World News

Wu Yi: China to go further than WTO promises




SW China floods have killed at least 177




Elders' problems centrestage at forum




Further opening in banking sector pledged




Russia vows to attack 'terror' worldwide




Presidents promote growth with Gabon