Beijing's language environment facing big challenges
(Beijing Review)
Updated: 2004-09-09 14:53
As soon as the curtain came down on the Athens Games, the world¡¯s focus shifted east where China now faces the challenge of hosting the 2008 Olympics, in the ancient capital of Beijing.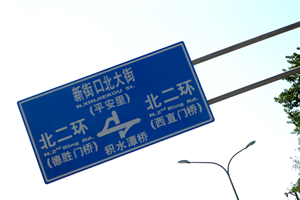 The road sign in the air above the street [beijingreview/file photo]
There is a buzz on the ground as people in the city discuss, plan and contemplate the next four years and the work to be done. Not a day is being wasted. Old landmarks are being refurbished, sports stadiums and accommodation venues are shooting up and the traffic gridlock is under a microscope.
But underneath the noise of cranes, jackhammers and giant drills, is another less familiar sound. Beijingers are coming out in droves to learn English and other languages. And they¡¯re shouting it out loud.
In an effort to include the more practical aspects of welcoming athletes and visitors to the city, locals of all ages and from all walks of life are hitting the books and practicing their "Hello¡¯s!" in an all-out foreign language drive.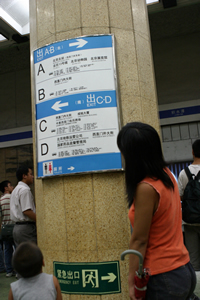 WHICH WAY OUT?: Despite having signs updated in 2002, subways are often the most confusing place to get directions for a visitor or foreigner. [file photo]
To help visitors even further, all the signage around the city is to be standardized, so that everyone is on the same page. Communication lies at the heart of the games.
Beijing is determined to see that the message gets across, in a language visitors will understand.
James McGreen and his wife, Katherine, one of many backpacker couples making their first trip to Shanghai this summer, became totally confused when they tried to find "XIZANG ZHONGLU" with the help of a local street map. The road sign indicated "CENTRAL TIBET ROAD" while the billboard overhead reads "CENTRAL XI ZANG RD."


This state of confusion is shared by many visitors to China. Recently, however, foreigners in Beijing have begun to notice more English words or abbreviations such as "road/Rd.", "street/St.", "avenue/Ave." and "bridge" coexisting with the corresponding Chinese phonetic alphabet (Pinyin) on road signs and guideposts.
As part of its huge facelift program, Beijing, host of the 29th Olympiad in 2008, is promoting the learning of foreign languages among its citizens. Bilingual is the buzz word and everything from road signs, public notices, menus and descriptions at scenic spots will be updated. This big undertaking will supplement the construction of state-of-the-art stadiums for the 2008 Olympics and protection of ancient relics in the old city area.
The Organizing Committee Office of Beijing Speaks to the World Program, founded in early 2000 with support from the Beijing Municipal Government, staged a new standard for road signs and guideposts in English in Beijing at the end of 2002, advocating "Pinyin" for proper names like "Wangfujing" and "abbreviated English word" for general name like "Avenue/Ave."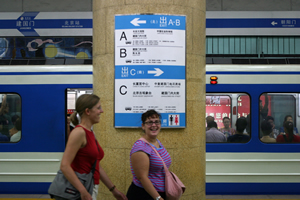 JUST FOLLOW THE SIGN: Foreign visitors having fun with directions
Despite the inconsistency between two sets of standards, the new standard itself produces contradictions. [file photo]

Liu Yang, Deputy Director of the office, conjured up an image for Beijing Review: By 2007, taxi drivers, waiters and other professions in the service industry will be capable of 100 sentences for daily use in at least one foreign language.

They will be ready to answer a foreigner's query, of say, "WANGFUJING Avenue" instead of "WANGFUJING DAJIE." But is this very practical or useful; and will it speed things up?

Huang Youyi, Vice President of China International Publishing Group, believes it is a global trend, as once a city is referred to as an international metropolis, foreigners swarm in. The new standard "makes sense to foreigners who can't speak or understand Chinese, bringing convenience to travelers and business people from abroad," he said.

The scheme of the Chinese phonetic alphabet, or Pinyin, however, has been used as the national standard for geographic names since 1978 in conformity with the Resolution 8 of the Third United Nations Conference on the Standardization of Geographical Names (UNCSGN).

The resolution recommends Pinyin be adopted as the international system for the romanization of Chinese geographical names because it is "linguistically sound" and "most suitable."

The advantage of Pinyin, according to Fan Yi, Associate Editor-in-Chief of Sinomap Press, lies in the fact that its sound corresponds directly and exclusively to the exact names in Chinese.

Many foreigners, however, care little about which standard will prevail, but hope that what they read from maps, road signs and guideposts are all uniform.

Confusion

For example, one road sign reads "XINJIEKOU WAIDAJIE," in Xicheng District it reads "XINJIEKOU Outer St.", while the highway directional sign over a junction nearby calls it "XINWAI ST."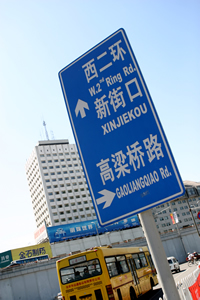 MAKE SENSE?: W. 2nd Ring Rd.¡ªcan you understand this sign? [file photo]

The new standard recommends ¡°Bridge¡± for "QIAO" in Pinyin for the overpasses everywhere in Beijing, but "Bridge," "BRIDGE" and ¡°QIAO¡± are often seen in the same signs in urban areas.

Also confusing are the different spellings of abbreviations of "street" (ST, St, ST. and St.) and "road" (RD, Rd, RD. and Rd.).

Chen Kexiang, director of the supervision branch of geographical names under the Ministry of Civil Affairs, complained about the situation, commenting that the ministry supervises cities nationwide except for Beijing, Shanghai and Tianjin municipalities.

An official from the Beijing Municipal Commission of Urban Planning, who declined to give her name, said that currently in Beijing the national standard is adopted for street signs indicating geographical names and the new standard for directional boards, over exits, entrances, overpasses or junctions.

The jury is still out on how to abbreviate "North," used to indicate direction. "N." appeared recently in street signs of geographical names in the area near Renmin University of China.

Convenient?

Half Pinyin and half English road signs are intended to make sense to foreigners whether it is a street, road or bridge, but often things get lost in translation causing great inconvenience. Even the simple translation of "Jie" to "Street" could create confusion, while translating "North" and "South" similarly is not helpful.

Most foreign residents in Beijing quizzed by Beijing Review at Lakeside Houhai, a trendy Beijing nightlife area, weren¡¯t bothered whether translation or transliteration is used for the bilingual road signs.

Businessman Andreas Kriesi has worked in China for three years and has no problems in reading road signs, though he does speak a little Chinese. He prefers Pinyin to translation because ¡°taxi drivers usually understand where you head for if you try to pronounce Pinyin.¡±

Frenchwoman Audrey Bouchon prefers Pinyin for the same reason.

Bouchon has been in Beijing for a year and can speak, read and write Chinese. She recommended Beijing to prepare more bilingual tourist handbooks for people coming from different countries. ¡°The function of road signs is to tell direction, but the tourist¡¯s handbook provides more needed information about a city,¡± she said.

She also advised that taxi drivers learn English words and expressions that are most frequently used in daily conversation in preparation for the 2008 Beijing Olympics.

Italian Carmine Gannotti joked that he prefers Italian to any other foreign tongues if possible. "Pinyin or English, they make no difference to me, but for the sake of taxi driver, I choose Pinyin," said Gannotti.

Whether translation is convenient for foreigners depends on how widely English is used within Beijing¡¯s large population. Fan Yi appreciated the ambitious goal of the Beijing Speaks to the World Program, but wondered if it is practical, given the huge aging population.

He also pointed out that indiscrimination between "avenue" and "street" could be confusing to foreigners. In the English world, "street" is for general use while "avenue" often refers to a wide tree-lined road.

Respect for Local Culture

China adopted the Pinyin system for the romanization of Chinese geographical names in 1978 to end the chaos caused by different old spelling systems, including the Wade-Giles system. For example, the romanized form of the Chinese word for "Peking" developed from "Pei-Ching" (Wade-Giles) to "Beijing"(Pinyin).

UNCSGN, held in May 1972, recommends that, within the international standardization of geographical names, the use of those exonyms designating geographical entities falling wholly within one state should be reduced as far and as quickly as possible.

China, Japan, the Republic of Korea and other non-roman scripts successively championed their own national standards for international use.

The Book of the World, printed by Macmillan in the United States, and The City Center Map of Beijing, published by Berndtson & Berndtson in Germany, for example, all use the Pinyin system to romanize Chinese geographical names.

Fan pointed out that the romanization of geographical names in Japan also makes no sense to foreigners if they know little Japanese.

Huang Youyi, who is also secretary general of the Translators¡¯ Association of China and supports the introduction of English words into road signs, understood that UNCSGN resolutions related to standardization of geographical names were ¡°out of respect for different local cultures.¡±

Huang advocated the practice of Hong Kong and Chinatown in San Francisco, like the famous Canal Street because ¡°Hanyu Pinyin is especially difficult for foreigners and a majority of them cannot pronounce C, K or H correctly.¡±

¡°To facilitate the travel, study and work of foreigners in China in terms of language environment is a long-term solution, ¡± added Huang.

Chen Kexiang of the Ministry of Civil Affairs said, ¡°Geographical names give geographical entities substantial meanings while road signs are ¡®mute guides¡¯ of cites and towns, faces of local people and eyes of outlanders. The introduction of English into road signs make it difficult for us to supervise along with the established national standard of road signs.¡±

Fan Yi worried about the aftermath¡ªIs the half-Pinyin and half-English system designed for the 29th Olympics that lasts only 20 days? Will the national standard replace it after the event? Beijing, as the capital city of China, always sets the example for other cities to follow, which also worries Chen Kexiang.

Fan expressed hope to negotiate with the Organizing Committee Office of the program for a standard that is acceptable for both sides.

¡°Measures must be adopted to settle the confusion,¡± he said.

Changes in Subways

Subways, which used to be one major target of complaints in Beijing, were given new signs at platforms and exits of all stations in 2002.

For foreigners or passengers who are unfamiliar with Beijing¡¯s subway, choosing which exit to use can be a problem. The new signs use letters (A, B, C, and D) instead of direction signs in Chinese characters to denote the four different exits, and indicate important landmarks near each exit in Chinese as well as English.

Yet, inconsistency is found in subways. The sign at exit B, at the Xizhimen Station indicates the exit leads to ¡°XIZHIMEN NEI STREET,¡± using Pinyin ¡°NEI¡± instead of ¡°Inner¡± and spelling out ¡°STREET¡± instead of abbreviation.

The interchanging stations, FUXINGMEN and JIANGUOMEN, as Bouchon said, are in need of improved signs.

Busssinessman Roland P. Marcz, who prefers translation to transliteration, complained about the airport in Beijing and Shanghai. ¡°I can hardly find my way around because the signs are too small; when I¡¯m in a taxi, I can¡¯t see clearly the Pinyin or English words on the street signs following Chinese characters.¡±

¡°People get the first impression of a city after they step down the foot ladder of the airplane and get into a taxi, or walk out of the railway station and into the subway,¡± said Marcz, ¡°that is why all signs are so important, if you¡¯re giving the city a facelift.¡±





| | |
| --- | --- |
| | |
| Diving prince Tian Liang jumps for the mic | |

| | |
| --- | --- |
| | |
| Guests arrive for Brunei crown prince's wedding | |

| | |
| --- | --- |
| | |
| World Suicide Prevention Day due for tomorrow | |
Today's Top News
Top Life News

Wu Yi: China to go further than WTO promises




SW China floods have killed at least 177




Elders' problems centrestage at forum




Further opening in banking sector pledged




Russia vows to attack 'terror' worldwide




Presidents promote growth with Gabon