Diving prince Tian Liang jumps for the mic
(CRI)
Updated: 2004-09-09 14:16
Two-time Olympic diving champion Tian Liang is planning to exchange the diving platform for the stage and jump headfirst into a singing career.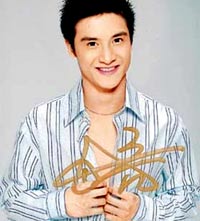 Tian Liang [CRI]

The 24-year-old is currently in talks with the Hong Kong Music giant Emperor Entertainment Group.

Details of the move have not yet been disclosed and Tian Liang's publicity agents say the diving champion would not consider the move this year due to his tight competition schedule.

Also looking to exercise her vocal cords is Palme d'Or-winning Hong Kong actress Maggie Cheung who revealed her ambitions to step into the music field during an interview with French magazine ELLE.

Many record companies have, however, expressed their doubts regarding the potential of the forty-something Chinese actress.