Guests arrive for Brunei crown prince's wedding
(Agencies)
Updated: 2004-09-09 14:05
Southeast Asian leaders and an array of royals from around the world began arriving in Brunei for the wedding of the heir to the oil-rich sultanate's throne.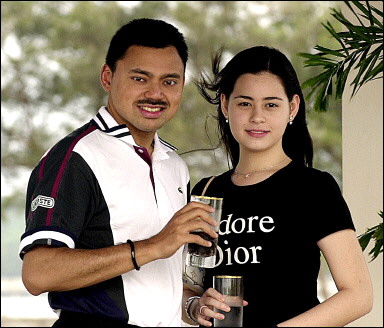 Brunei's Crown Prince Al-Muhtadee Bolkiah (L) with Sarah Salleh in Bandar Seri Begawan. Southeast Asian leaders and an array of royals from around the world began arriving in Brunei for the wedding of the heir to the oil-rich sultanate's throne. [AFP]

Crown Prince Al-Muhtadee Billah Bolkiah, 30, and 17-year-old university student Sarah Salleh, a half-Swiss commoner, will be married at the royal palace Thursday in Muslim ceremonies showcasing the Southeast Asian kingdom's ancient origins.

The wedding guests are led by wealthy and powerful friends of the groom's father, Sultan Hassanal Bolkiah, once reputed to be the world's richest man.

The Duke of Gloucester, representing Britain's Queen Elizabeth II, was the first foreign VIP guest to arrive Wednesday.

The only European royal on the VIP list, he went down a staircase from a commercial flight and walked on a red carpet to a limousine on the tarmac.

Singapore Prime Minister Lee Hsien Loong, making his international debut after taking office last month, was also among the first arrivals, followed by Indonesian President Megawati Sukarnoputri and Japan's Crown Prince Naruhito.

The future Japanese emperor jetted in without Princess Masako, who stayed home because of a stress-induced disorder.

Singapore's former prime ministers Goh Chok Tong and Lee Kuan Yew were also due to arrive, underscoring the city-state's historic ties with Brunei.

Thai Prime Minister Thaksin Shinawatra was also expected Wednesday.

Although there will be no representative from the Thai royal family, they have already sent a message of congratulations and a gift via Thailand's ambassador to Brunei, according to Thai officials in Bangkok.

Saudi Arabia's Prince Bandar -- Riyadh's ambassador to Washington -- and Prince Saud, and former Malaysian prime minister Mahathir Mohamad were also scheduled to arrive Wednesday.

Malaysian Prime Minister Abdullah Ahmad Badawi, Philippine President Gloria Arroyo, Bahrain's King Hamad and Malaysian sultans are to arrive on Thursday.

Malaysian King Syed Sirajuddin, who holds the rotating leadership of his country's largely ceremonial monarchy, is scheduled to arrive on Friday in time for the royal banquet, to which up to 6,000 people have been invited.

The British High Commission (embassy) here said the Duke of Gloucester, a first cousin of Queen Elizabeth II, will have his own programme aside from attending the wedding.

He is expected to meet with the British community and visit places of interest in Brunei, a former British protectorate which gained independence in 1984.

Many of the guests, including the duke, Japan's Naruhito, Bahrain's monarch and the Southeast Asian leaders are booked at the palatial Empire Hotel, where toilet brushes and massive columns in the atrium are gold-plated.

The other guests are staying in equally opulent villas built for then US president Bill Clinton and other world leaders when Brunei hosted the Asia-Pacific Economic Cooperation APEC summit in 2000.

Brunei draws its wealth from oil and gas revenues, and Sultan Hassanal was once reputed to be the world's richest man before the rise of technology mogul Bill Gates and other self-made billionaires.

The 58-year-old monarch lives in a palace of more than 1,700 rooms and is reported to have a private collection of more than 150 Rolls-Royces.

Prince Al-Muhtadee Billah, a billiards and snooker enthusiast who did Islamic studies and a diplomatic course in Britain, is in line to become the 30th sultan in an unbroken chain of succession of rulers in Brunei's more than 600 years as a Malay Muslim kingdom.

The bride, who has yet to be conferred a royal title, was born to a Bruneian father and a Swiss nurse, Suzanne Aeby. Her parents met while studying in London in the 1970s, officials said.




| | |
| --- | --- |
| | |
| Guests arrive for Brunei crown prince's wedding | |

| | |
| --- | --- |
| | |
| World Suicide Prevention Day due for tomorrow | |

| | |
| --- | --- |
| | |
| Who will be the right Little Dragon Girl? | |
Today's Top News
Top Life News

Wu Yi: China to go further than WTO promises




SW China floods have killed at least 177




Elders' problems centrestage at forum




Further opening in banking sector pledged




Russia vows to attack 'terror' worldwide




Presidents promote growth with Gabon