Beijing axes five Olympic venues
(Xinhua)
Updated: 2004-09-09 09:35
Beijing Olympic organizers are seeking ways to cut up to six billion yuan (724 million dollars) off the cost of building 2008 Games venues.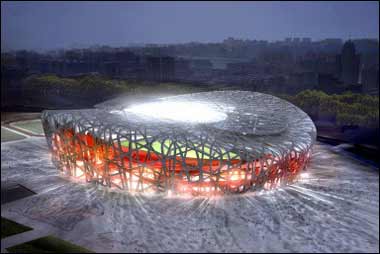 An artist's rendition of the National Stadium for the 2008 Olympic Games in Beijing. [file photo]
The cost-cutting comes after Beijing mayor Wang Qishan urged frugality in the building of 18 sports facilities for the 2008 event that were expected to cost more than three billion dollars.
"I can only say that at this time that we are planning to save several billion yuan," said Yang Zhaoke, from the office for Olympic Economy of the Beijing Developmental and Reform Commission.
"Whether we can save four, five or six billion can only come after a general accounting from the departments in charge of the projects."
The changes are in part a result of policy makers' second thoughts after rows over building projects, Xinhua news agency said on its website.
The biggest change so far is to the National Stadium project, which will host the opening and closing ceremonies and the track and field events.
Construction was suspended last month partly because of safety concerns.
The design's overemphasis on visual effects and expensive, extravagant imagery is another concern.
The original design was billed at about 3.9 billion yuan (US$469.9 million), while the re-design should cut costs to about 2.3 billion yuan, Xinhua said.
The new design will not include an expensive retractable roof and four huge television screens in the original plan have been cut to just one, report said.
Details of the revised Olympic construction plan are expected to be unveiled at a meeting of the Beijing People's Congress Standing Committee Wednesday, according to China Radio International.
Meanwhile, Chai Hua, an official with the Beijing Organizing Committee for the Olympic Games' media department, has confirmed that the five new venues have been scrapped and existing facilities will be upgraded or temporary structures built to accommodate the events.
A senior economist says before the latest planned cuts are taken into account, design alterations will result in savings of 3 billion yuan, or US$360 million.
Beijing's Communist Party Secretary Liu Qi said in Hong Kong last week that International Olympic Committee members and the Hong Kong government wanted part of the Games to be held in the territory.
"The central authorities understand the Hong Kong people are keen to take part in it ... the decision cannot be made by the Beijing Olympic Committee alone but this is not something that can't be pursued," Liu told reporters.
Yang said that if events were moved to Hong Kong, they would likely be the equestrian events. These would be difficult to hold in Beijing due to IOC regulations that require no Chinese domestic horses to be within 50 kilometers (30 miles) of the Olympic equestrian center.
He indicated that moving the equestrian events to Hong Kong would lower costs for Beijing but did not specify what those costs would be.
Olympic venues and facilities were originally budgeted to cost 22 billion Yuan, or US$2.7 billion.