Barnes upset about helping Bush avoid war
(Agencies)
Updated: 2004-09-09 08:39
Former Texas House Speaker Ben Barnes' recollections over how he helped President Bush get into the Texas Air National Guard during the Vietnam War have evolved over the years from fuzzy to distinct, with him now expressing remorse for what he did.
Barnes, a Democrat who was one of the most powerful politicians in Texas in the '60s and '70s, said at an Austin campaign rally for Democrat John Kerry (news - web sites) that he was "ashamed" for helping Bush and sons of other wealthy Texans avoid service in Vietnam.
"I got a young man named George W. Bush into the National Guard ... and I'm not necessarily proud of that, but I did it," Barnes said in a video clip recorded on May 27, which was posted on the Internet and touted to media organizations last month just before the start of the GOP National Convention.
Barnes plans to talk more about his role on "60 Minutes" Wednesday night. In excerpts released by CBS, Barnes said he shouldn't have had the power "to choose who was going to Vietnam and who was not."
"Reflecting back, I'm very sorry about it, but you know, it happened and it was because of my ambition, my youth and my lack of understanding," he said.
Through a spokeswoman, Barnes on Wednesday declined an interview with The Associated Press, but he told the AP on Aug. 28 that the video "speaks for itself."
Barnes' story has developed since Bush's first presidential election campaign.
In 1998, Barnes said he couldn't recall helping Bush in 1968 — at the height of the Vietnam War. Barnes was Texas House Speaker at the time, and later became lieutenant governor.
"I had a lot of requests," Barnes told the Fort Worth Star-Telegram. "Nobody ever could (recall), and my staff was divided if I did or did not," help Bush.
By 1999, his memory was much clearer when he was called to testify in a lawsuit over the firing of Texas Lottery director Lawrence Littwin in 1997.
Littwin's lawyers wanted to question Barnes, who worked as a lobbyist for GTECH, the contractor that operates the Texas Lottery, about whether the company was allowed to keep its contract in exchange for Barnes' silence on the guard matter. Barnes dismissed the allegation.
Although he denied getting a direct request for help from the Bush family, Barnes said he helped a lot of children from influential Texas families get in the Guard.
He said he was contacted by the now-deceased Sidney Adger, a Houston oilman and friend of Bush's father, former President George H. W. Bush, who was a congressman at the time, about recommending the younger Bush for a pilot position with the Air National Guard.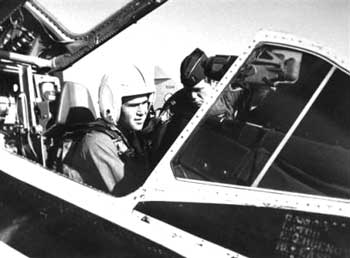 George W. Bush sits in an F102 fighter jet while serving in the Texas Air National Guard in this undated photo. President Bush was in the National Guard from 1968-1973. Former Texas House Speaker Ben Barnes, a Democrat who was among the most powerful politicans in Texas in the 1960s and 1970s, said at a May campaign rally for Democratic presidential hopeful John Kerry that he was 'ashamed' for helping Bush and sons of other wealthy Texans avoid service in Vietnam. Barnes plans to talk more extensively about his role Wednesday in an interview on '60 Minutes.' [AP]

Barnes said he called Gen. James Rose, the Texas Air Guard commander, and made the recommendation. Rose died in 1993.

"Neither Congressman Bush nor any other member of the Bush family asked Barnes' help," the statement from his attorneys said. "Barnes has no knowledge that (Bush or his family) knew of Barnes' recommendation."

President Bush served as a jet pilot in the guard from 1968 to 1973, with a transfer to the Alabama Guard in late 1972 to work on the political campaign of a family friend. Questions have been raised about Bush's service in Alabama and whether he reported for duty.

Bush has said he is proud of his service and that neither he nor his father asked for help in finding the Guard opening.

At the time Bush was admitted to the Guard, he was just days away from losing his student draft deferment upon graduation from Yale. Thousands of men were on the Guard waiting list, and in Texas it took more than a year to get admitted.

Bush was not the only son of rich and powerful families, from both parties, to get a spot in the Texas Guard. His unit near Houston was sometimes called the Champagne Unit because of its famous names. Lloyd Bentsen III, a first lieutenant and son of the future senator and Cabinet secretary, was there, as was Capt. John Connally III, son of the former governor and Cabinet secretary.

Barnes said at the Austin rally that he became ashamed of helping Bush after walking through the Vietnam Memorial earlier this year and looking at the names of people who died.

"I got a lot of other people in the National Guard because I thought that was what people should do when you're in office, you helped a lot of rich people," he said. " ... I'm very sorry of that and I'm very ashamed of it and I apologize to the voters of Texas for that."




Today's Top News
Top World News

Annan applauds China's role in United Nations




Talks ongoing to free kidnapped Chinese




WHO report highlights traffic safety in China




China issue rules on overseas investment




Assessing status of nation's health




Bus crash kills 21 in Southwest China