AP: Thousands of Iraqis estimated killed
(Agencies)
Updated: 2004-09-09 08:38
At Sheik Omar Clinic, a big book records 10,363 violent deaths in Baghdad and nearby towns since the war began last year — deaths caused by car bombs, clashes between Iraqis and coalition forces, mortar attacks, revenge killings and robberies.
While America mourns the deaths of more than 1,000 of its sons and daughters in the Iraq campaign, the U.S. toll is far less than the Iraqi. No official, reliable figures exist for the whole country, but private estimates range from 10,000 to 30,000 killed since the United States invaded in March 2003.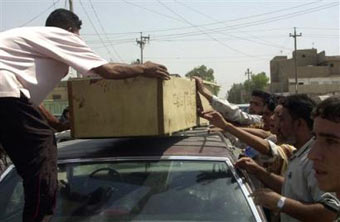 Relatives take a body for burial after clashes with coalition forces in Sadr City left at least 35 Iraqis dead, Baghdad, Iraq, Tuesday Sept. 7, 2004. While U.S. mourns the deaths of more than 1,000 of its sons and daughters in the Iraq campaign, according to private estimates, anywhere between 10,000 to 30,000 Iraqis have died in the same period. [AP]


The violent deaths recorded in the leather ledger at the Sheik Omar Clinic come from only one of Iraq's 18 provinces and do not cover people who died in such flashpoint cities as Najaf, Karbala, Fallujah, Tikrit and Ramadi.

Iraqi dead include not only insurgents, police and soldiers but also civilian men, women and children caught in crossfire, blown apart by explosives or shot by mistake — both by fellow Iraqis or by American soldiers and their multinational allies. And they include the victims of crime that has surged in the instability that followed the collapse of Saddam Hussein's regime.

Adding to the complexity of sorting out what has happened, the records that have been kept don't always say whether a death came in a combat situation or from some other cause.

The prospect of violent death is the latest burden for a people who suffered through decades of war and a brutal dictatorship under Saddam, whose regime has been accused by human rights groups of killing as many as 300,000 Iraqis it deemed enemies.

"During Saddam's days killings were silent. Now the killing is done openly and loudly," said Ghali Karim Hassan, who lost his 31-year-old son, Ghaidan, last April.

He said Ghaidan was killed in Najaf when a demonstration called by radical cleric Muqtada al-Sadr led to a gunbattle with coalition troops, mainly Spaniards and Salvadorans. Ghaidan, who left a wife and three children, was one of 22 protesters killed.

In a country where the dead are often buried quickly without proper accounting by authorities, the real number of Iraqis whose lives were cut short in the Iraq conflict may never be known.

U.S. officials said they didn't have the resources to track civilian deaths during the U.S.-led occupation, which ended officially June 28. Iraq's central authorities also haven't reported comprehensive figures on civilian deaths — while record-keeping was meticulous under Saddam, the interim government didn't even begin trying to keep track until five months ago.

In a guerrilla war without front lines, where teenagers confront tanks with rocket-propelled grenades, establishing who was an innocent civilian and who was a legitimate combatant makes the process of compiling detailed figures on civilian deaths problematic.

"It is difficult to establish the right number of casualties," said a spokeswoman for Amnesty International, Nicole Choueiry. Her London-based human rights organization estimates more than 10,000 Iraqi civilians died in the first year of the conflict alone.

However, Amnesty's figure was based in part on media reports that often simply repeated claims of American and Iraqi officials. Iraq is as large as California and much of the country is too dangerous for independent teams to investigate more than a handful of death claims.

Iraq Body Count, a private group that bases its figures in part on reports by 40 media outlets, puts the number of civilian deaths since the conflict began at between 11,793 and 13,802.

Hazem al-Radini at the Human Rights Organization in Iraq said his group estimates the toll at more than 30,000 civilian deaths. He said the group didn't have any statistics and based the figure on reports by Iraqi news media.

Iraqi authorities have begun trying to determine overall death figures, though they face formidable problems. Insurgent groups are either reluctant to report death figures for security reasons or inflate them to win public sympathy. And some Iraqi families bury their dead quickly, without reporting them.

The Iraqi Health Ministry began tabulating civilian deaths in April, when heavy fighting broke out in Fallujah and Najaf. The ministry's figures indicate 2,956 civilians, including 125 children, died across the country "as the result of a military act" between April 5 and Aug. 31. Of those, 829 were in Baghdad, the ministry figures say.

In some cases, it is uncertain whether individuals were killed by insurgents or soldiers or were killed by criminals or rivals who used the turmoil of war as a cover for settling scores. And even in cases where the cause was known, records sometimes don't specify.

However, Iraqis argue, even those killed by criminals could be considered indirect victims of a war that destroyed Iraq's security services and brought a spike in crime.

"Our work here multiplied by at least 10 times compared to prewar periods," said Dr. Abdul-Razzak Abdul-Amir, head of the Baghdad coroner's office.

Al-Radini at the Human Rights Organization in Iraq agreed. "The main responsibility behind these Iraqi civilians deaths lies with the occupation because those victims would not have fallen had there not be an occupation," he said.




Today's Top News
Top World News

Wu Yi: China to go further than WTO promises




SW China floods have killed at least 172




Elders' problems centrestage at forum




Further opening in banking sector pledged




Russia vows to attack 'terror' worldwide




Presidents promote growth with Gabon