SW China floods have killed at least 177
(Xinhua)
Updated: 2004-09-09 07:40
Floods unleashed by torrential rains have left at least 177 people dead and more than 60 others missing in southwest China's Sichuan Province and Chongqing Municipality.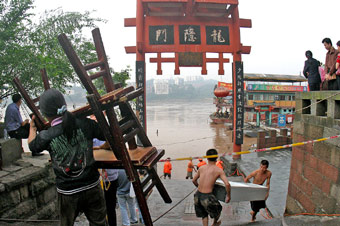 Residents in Chongqing of Southwest China prepare for normal life Wednesday as floodwaters continue to recede. Medical workers have started disinfection work in the flood-hit areas. [newsphoto]

The Sichuan provincial disaster relief office confirmed 102 people dead and 35 missing by 21:30 Wednesday.

In Chongqing, the disaster relief office confirmed that the death toll jumped to 75, 25 others missing and 2513 injured by 10:30 Wednesday, the China News Service reported.

Most of the deaths was caused by landslides, mud-and-rock flow and flash floods sweeping through mountain valleys. The casualty information have been delayed because communication facilities were severely damaged in the mountainous areas, according to local flood control offices.

The five-day violent downpour has also affected 11.3 million local residents, flooded 412,000-hectare crop. The direct economic losses are estimated to exceed 3.9 billion yuan (US$470 million).

"This is the most severe natural disaster struck the country after typhoon Rananim, which killed at least 164 in eastern Zhejiang Province in mid-August," said Zhang Zhitong, deputy director of the State Flood Control and Drought Relief Headquarters.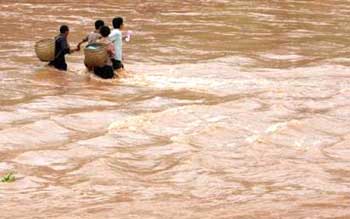 Local residents hold on to each other as they cross a swollen river in Kaixian, Chongqing, September 7, 2004. The death toll rose to 107 with another 88 missing in southwest China on Tuesday following a series of floods and mudslides. [Reuters]

The shower over the past two days posed great challenge for rescue work, especially in the mountainous areas, where were frequently hit by landslides and the roads to the outside world were mostly destroyed. For example, In Dazhou City of Sichuan, more than 6,000 people were still stranded in their flood-besieged houses.

Facing this catastrophe, which "is not likely to happen in a century", the governments of Sichuan and Chongqing have been working all out to minimize the losses, promising "to provide all the victims with adequate food, drink and accommodation".

Chinese central government allocated 40 million yuan (US$4.82 million) for emergency funds on Monday to Chongqing and Sichuan. And the Chongqing municipal government also raised 12 million yuan (US$1.45 million) for sheltering local residents and restoring transportation and telecommunication facilities.

On Tuesday afternoon, a work team comprising officials from the State Flood Control and Drought Relief Headquarters and ministries of civil affairs, finance and land and resources arrived in Dazhou to guide the rescue work.

The city so far has raised 15 million yuan (US$1.81 million) to "rebuild homes", but one local government official said that "we still need more financial support".

More than 5,000 armed police have taken part into the rescue work and Zhang Jun, a 19-year-old armed police, drowned when helping several villagers evacuate from their flood-besieged houses in Chongqing.

In the county seat of Kaixian, the floodwater has almost receded and more than 200 medical workers started a three-day disinfection for the flooded areas Tuesday. Local health department has also set up 18 stations across the county to monitor any possible outbreak of epidemic diseases.

In addition, the county also established six medical service station to provide free treatment and medicine to local residents.

After three-day efforts, nearly all the flood-stricken areas in Kaixian had resumed electricity supply. The water supply is expected to be fully resumed on Wednesday.

Local residents are busy cleaning their houses and the trash left in the streets. Some stores and free markets of agricultural products also opened. Vehicles of publicity circuited the county, asking the residents to pay attention to the safety use of home appliances.

Local insurance companies have started to compensate for the losses of the insured and "those private business runners who have not bought property insurance, can enjoy a series of preferential policies, including tax reduction or exemption," said Cheng Yuanhui, the acting chief of Kaixian County.

According to local meteorological administration, moderate rain will continue in most areas Chongqing and some areas will see torrential rain.

"We must not be off guard," said Wang Hongju, mayor of Chongqing Municipality.




Today's Top News
Top China News

Wu Yi: China to go further than WTO promises




SW China floods have killed at least 177




Elders' problems centrestage at forum




Further opening in banking sector pledged




Russia vows to attack 'terror' worldwide




Presidents promote growth with Gabon