Tackling swollen auto production capacity
By Fu Jing (China Daily)
Updated: 2004-09-09 02:14
The central government will undertake a new series of macro-control measures and industry policies to help stop swollen auto production capacity and a slowdown in sales.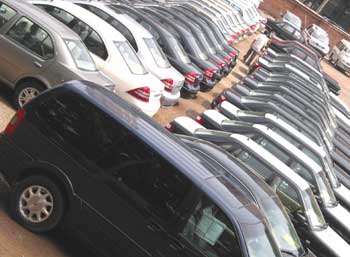 A worker walks between two rows of cars in an auto dealer center in Jinan, Shandong Province in this August 29, 2004 file photo. Amid rising fuel prices, car sales in China has slowed downed. [newsphoto]

Chen Jianguo, division director with National Development and Reform Commission (NDRC), Wednesday said negative trends have already been targeted by the State Council, China's cabinet.

"Our commission pays special attention to these trends and we are immersed in in-depth investigation now," said Chen.

It is estimated that this year's production will top 5 million units, making China the world's third-largest auto manufacturer after the United States and Japan. But buyers are still holding their money and adopting a wait-and-see attitude, even though car loans are available.

Sales amounted to 346,000 vehicles in July, down just under 9 per cent from June, statistics from the China Association of Automobile Manufacturers show. This is the fourth consecutive month-to-month decline since April.

However, investors -- especially foreign enterprises -- are quite upbeat about China's auto market's potential.

James P. Meil, chief economist with the US-based Eaton Corporation, told China Daily that China will become the world's No1 in economic strength during next 25-50 years and the country will be among the top three auto production zones, along the United States and Europe.

"Great market potential drives investors to pour their money here and the current slowdown in the auto market is a temporary problem," said Meil.

Workers are busy assembling cars in an auto plant in east China's Zhejiang Province in this file photo. China now manufactures 5 million units, making China the world's third-largest auto manufacturer after the United States and Japan. [newsphoto]

Compared with about 100 years of development in industrialized countries, China's auto market is still young and problems and challenges are inevitable, said Meil.

"The demand is there and we want to locate what is real demand for China in the coming years," he said.

Meil is currently involved in the development of a statistic model for China's auto industry with experiences from US and European market. His company is a global leader in fluid power system and services for industrial, mobile and aircraft equipment with last year's sales of US$8.1 billion.

The government also said the country's demand for vehicles will grow quickly.

The Ministry of Communication said the country will have 140 million automobiles plying its roads by 2020, a seven times greater number than now, fueling demand for transportation infrastructure and services.

It predicted that China's auto population will eventually reach around 250 million, or about 150 cars per 1,000 people.

Government statistics show that China produced a record 4 million autos last year, when the number of private cars grew by 80 per cent, thanks to the country's strong economic advancement.

That demand has been coupled with the unveiling of ambitious expansion plans by both international and domestic auto players.




Today's Top News
Top China News

Stocks plunge to five-year low




Scientific satellites launched from Shanxi




HK condemns `distorted' report




Southwest flood death toll grows to 177




Tackling swollen auto production capacity




Wu Yi: China to go further than WTO promises