Southwest flood death toll reaches 164
By Wang Ying (China Daily)
Updated: 2004-09-08 21:40
The flood death toll in Southwest China has surged again, leaving at least 164 people dead and more than 66 others missing, civil affairs officials said Wednesday.
The Sichuan provincial disaster relief office confirmed 89 people dead and 41 missing so far.
In Chongqing Municipality, situated east of Sichuan, the disaster relief office confirmed deaths had jumped to 75, with 25 others missing and 2,513 injured.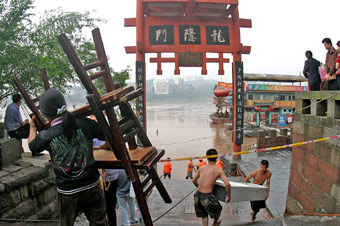 Residents in Chongqing of Southwest China prepare for normal life Wednesday as floodwaters continue to recede. Medical workers have started disinfection work in the flood-hit areas. [newsphoto]


Heavy rains have sparked flash floods and mud and rock flows in Sichuan and Chongqing since last Thursday, destroying crops and severing transportation links, disaster relief officials said.

Most of those killed died when mudslides buried their homes, according to the Tianfu Morning Post in Chengdu, capital of Sichuan Province.

In Dazhou, more than 6,000 people were still stranded in their flood-besieged houses.

In Kaixian County, the worst hit area of Chongqing, floodwaters had almost receded and more than 200 medical workers started three days of disinfection work. The local health department has also set up 18 stations across the county to monitor any possible outbreak of epidemic diseases.

The central government has allocated 40 million yuan (US$4.8 million) for emergency funds to Chongqing and Sichuan. And the Chongqing municipal government raised 12 million yuan (US$1.45 million) to shelter local residents and restore transportation and telecommunication facilities.

Flooding in Southwest China, which covers the upper reaches of the Yangtze River, has posed threats to Three Gorges Dam areas.

The rampage was believed to be among the largest flood peak since 1998 after continuous torrential rains in the past week.

The Yichang Hydrological Stations in Central China's Hubei Province, where the Three Gorges Dam is located, was expected to meet the water flow of 62,000 cubic metres per second late Wednesday, the largest peak flow since 1998. The water level at Yichang Hydrological Stations reached 52.54 metres high Wednesday, 0.54 metres above the warning level.

The government of Hubei Province, has put all departments on flood alerts, increased patrolling along the dams of the river and reinforced all reservoirs.

The governments urged officials and people to pay more attention to some parts of riverbanks built in recent years, which have never experienced such huge flood peaks.




Today's Top News
Top China News

Wu Yi: China to go further than WTO promises




Southwest flood death toll reaches 164




Elders' problems centrestage at forum




Further opening in banking sector pledged




Russia vows to attack 'terror' worldwide




Presidents promote growth with Gabon